"Winter Stories — Ghost Stories... Round the Christmas Fire": Victorian Ghost Stories and the Christmas Market
Caley Ehnes

University of Victoria
Keywords:
Victorian literature, Elizabeth Gaskell, Gaskell, Dickens, Charles Dickens, Christmas, fiction, spiritualism, ghost story, Household Words, religion, society, culture, Illumine, CSRS, UVic, University of Victoria, Centre for Studies in Religion and Society
Abstract
Using the publication of Elizabeth Gaskell's "The Old Nurse's Story" in the 1852 Christmas number of Dickens's Household Words as a case study, this paper examines how the publication of Victorian ghost stories in Christmas numbers redefines the ghost story, transforming it from a modern text participating in contemporary debates on spiritualism into a social text participating in the broader cultural project of reaffirming the nation's (religious) traditions in the face of (secular) modernity. While the themes of Christmas ghost stories explicitly address social issues and secular, middle-class cultural values, the morals and social traditions promoted by Christmas fiction cannot exist outside of the era's contemporary conversations about the place of religion in a modern, industrial society. The ghosts and goblins of Dickens's Christmas fiction address and attempt to correct the social ills of modern society through a secularised application of Christian values and behaviours.
Downloads
Download data is not yet available.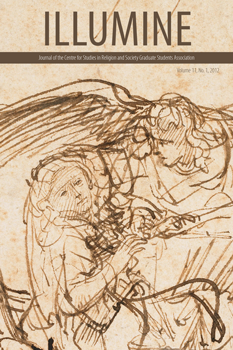 How to Cite
Ehnes, Caley. 2014. "'Winter Stories — Ghost Stories. Round the Christmas Fire': Victorian Ghost Stories and the Christmas Market". Illumine: A Journal of the Centre for Studies in Religion and Society 11 (1). Victoria, British Columbia, Canada, 6-25. https://doi.org/10.18357/illumine.ehnesc.1112012.
Copyright (c) 2012 Caley Ehnes
This work is licensed under a Creative Commons Attribution-NonCommercial 4.0 International License.
Authors contributing to ILLUMINE agree to release their articles under the Attribution Non-Commercial 4.0 International License. This license allows anyone to share their work (copy, distribute, transmit) and to adapt it for non-commercial purposes provided that appropriate attribution is given, and that in the event of reuse or distribution, the terms of this license are made clear.
Authors retain copyright of their work and grant the journal right of first publication.
Authors are able to enter into separate, additional contractual arrangements for the non-exclusive distribution of the journal's published version of the work (e.g., post it to an institutional repository or publish it in a book), with an acknowledgement of its initial publication in this journal.