Romanticizing the Land: Agriculturally Imagined Communities in Palestine-Israel
Jennifer Shutek

Simon Fraser University, BA University of Oxford, M.Phil Candidate
Keywords:
Palestine, Zionist, Palestinian, Israel, agriculture, nation building, propaganda, shared symbols, symbolism, identity, religion, society, culture, Illumine, CSRS, UVic, University of Victoria, Centre for Studies in Religion and Society, MEICON, Islamic,
Abstract
This paper argues that images, and specifically agricultural images, play a significant role in the imaginings of the Israeli and Palestinian communities. Agriculture has symbolic and material value among Palestinians and Israelis, and contributes to identities and land claims made by Zionist and Palestinian organizations. Anderson's discussion of nation building emphasizes the primacy of print in the imagination of a community; this paper highlights non-textual elements of nation building via case studies of the creation and dissemination of propaganda posters by the Jewish National Fund and the Popular Front for the Liberation of Palestine. A survey of propagandistic agricultural images reveals the shared symbols used by Palestinians and Israelis in forging identities and exclusive claims to land. Despite being common symbols from a shared past, agricultural images are crucial in creating and perpetuating a divide between Israelis and Palestinians, and in arguing for organic links between each group and the land of Palestine-Israel.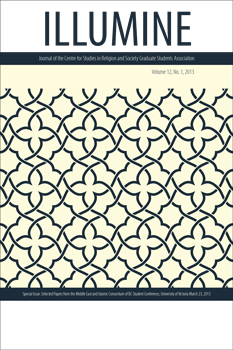 Authors contributing to ILLUMINEagree to release their articles under the
Attribution-NonCommercial 4.0 International
license. This licence allows anyone to share their work (copy, distribute, transmit) and to adapt it for non-commercial purposes provided that appropriate attribution is given, and that in the event of reuse or distribution, the terms of this license are made clear.
Authors retain copyright of their work and grant the journal right of first publication.
Authors are able to enter into separate, additional contractual arrangements for the non-exclusive distribution of the journal's published version of the work (e.g., post it to an institutional repository or publish it in a book), with an acknowledgement of its initial publication in this journal.