The Notion of Subhuman Identity in the War on Terror
Jessica Singh

University of Victoria
Keywords:
war on terror, terrorism, September 11, USA, Al-Qaeda, Taliban, dron, Middle East, national defense, subhuman, religion, society, culture, Illumine, CSRS, UVic, University of Victoria, Centre for Studies in Religion and Society, MEICON, Islamic, Middle E
Abstract
Foreign policies in the global political arena continue to demonstrate the consequential after-effects of the terrorist attacks in New York on September 11, 2001. Propagations of a "terrorist threat" are strategically used by Western political actors to achieve a multiplicity of ends. In some cases, these ends supersede accepted international precedents, both in the realms of international law and convention. In particular, United States President George W. Bush's War on Terror, and President Barak Obama's continuing drone operations in the Middle East exemplify instances of political transcendence. Through the strategic enactment of ambiguous laws and through intimate utilizations of notions of "state sovereignty" and "national self-defense," the American Government has gained unprecedented authority in the treatment of suspected terrorists. This article examines the legal, theoretical, and ethical elements of the War on Terror and the American drone operation in the Middle East to illustrate the exceptionalness of Al-Qaeda and Taliban combatants in American legal understanding.
Downloads
Download data is not yet available.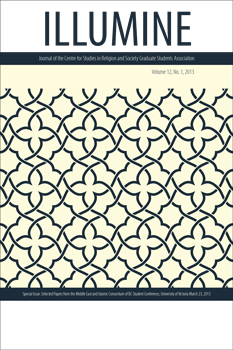 How to Cite
Singh, Jessica. 2014. "The Notion of Subhuman Identity in the War on Terror". Illumine: Journal of the Centre for Studies in Religion and Society 12 (1). Victoria, British Columbia, Canada, 38-57. https://doi.org/10.18357/illumine121201313324.
Authors contributing to ILLUMINE agree to release their articles under the Attribution Non-Commercial 4.0 International License. This license allows anyone to share their work (copy, distribute, transmit) and to adapt it for non-commercial purposes provided that appropriate attribution is given, and that in the event of reuse or distribution, the terms of this license are made clear.
Authors retain copyright of their work and grant the journal right of first publication.
Authors are able to enter into separate, additional contractual arrangements for the non-exclusive distribution of the journal's published version of the work (e.g., post it to an institutional repository or publish it in a book), with an acknowledgement of its initial publication in this journal.