Using Hul'q'umi'num' directional SVCs to express path and manner
Lauren Schneider

Simon Fraser University
Abstract
Path is considered an obligatory element of a motion event and languages vary in how path is expressed in motion constructions (Slobin 2004). Hul'q'umi'num', the Island dialect of Halkomelem Salish, makes use of an equipollently-framed system in which path and manner are expressed by equivalent forms using serial verb constructions (SVCs). The language exhibits directional SVCs consisting of a manner and a path verb as well as consisting of multiple path verbs. Furthermore, there is an emerging pattern of grammaticalization involving the verb huye' 'leave', which occurs more frequently and exhibits less flexibility in ordering than other motion verbs in SVCs. These patterns indicate that the verb huye' functions as the minor component in an asymmetrical SVC.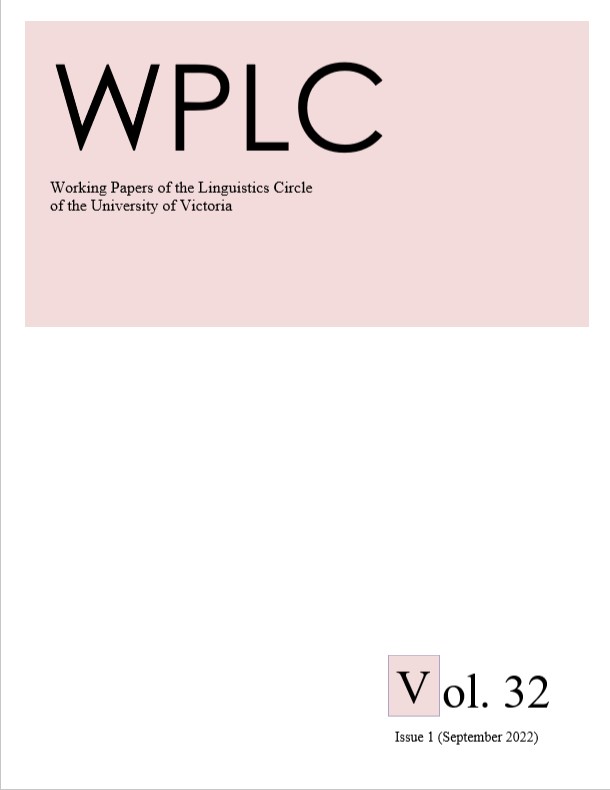 Copyright (c) 2022 Lauren Schneider
This work is licensed under a Creative Commons Attribution-NonCommercial 4.0 International License.
All rights are retained by submitting authors. If you are an author of a previously print only paper and wish to have the digital version removed please contact the journal at wplc@uvic.ca.