pentl'ach motion auxilaries: From legacy materials to a preliminary analysis
Abstract
The purpose of this project is to develop a preliminary understanding of Pentlatch motion auxiliary verb forms, functions, and constructions for the contemporary, community-led Pentlatch language reclamation.[1] The project began by creating a format of the stories that is searchable, editable, and sortable from existing digital Boas legacy materials (Boas, ca. 1910) which revealed two motion verbs/auxiliaries: çō/çū meaning 'go' and mē meaning 'come'. A comparative approach was also incorporated to determine these verbs' possible functions in an auxiliary position. Additional examination of the contexts and translations in the stories was used to develop an idea of the grammatical information motion auxiliaries might contribute in Pentlatch, and to survey how other information might be included within, or in co-occurrence with, auxiliary constructions.
Keywords: Central Salish; language reclamation; motion; auxiliary verb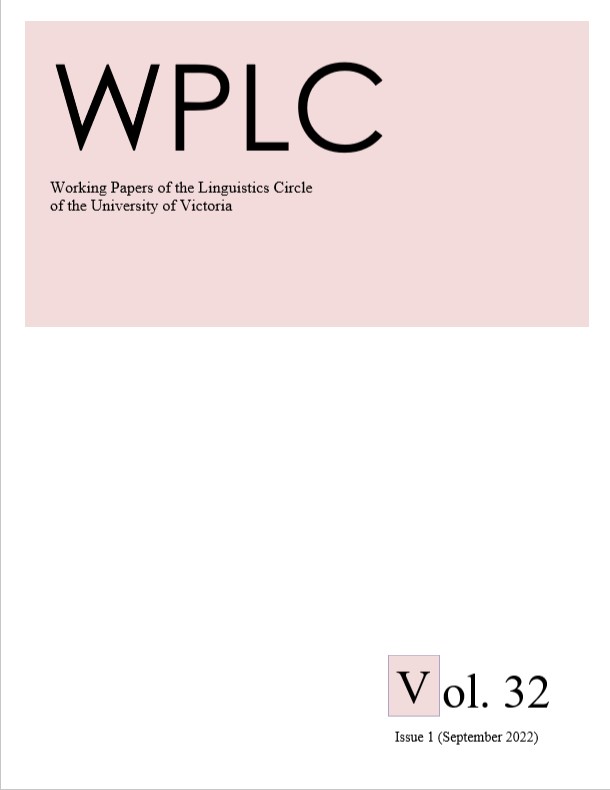 Copyright (c) 2022 Erin Hashimoto
This work is licensed under a Creative Commons Attribution-NonCommercial 4.0 International License.
All rights are retained by submitting authors. If you are an author of a previously print only paper and wish to have the digital version removed please contact the journal at wplc@uvic.ca.