Land and Liberty: Settler Acknowledgement in Anarchist Pedagogies of Place
Abstract
Theresa Warburton is an Associate Professor in the Department of English at Western Washington University, where she is also affiliated faculty in Canadian-American and Women's, Gender, and Sexuality Studies. Her book, Other Worlds Here: Honoring Native Women's Writing in Contemporary Anarchist Movements, is forthcoming from Northwestern University Press in April 2021. Along with Cowlitz writer Elissa Washuta, she is also the co-editor of Shapes of Native Nonfiction: Collected Essays by Contemporary Writers, which was a finalist for the Washington State Book Award. Her work has appeared in Studies in American Indian Literatures, Cultural Studies/Critical Methodologies, Upping the Anti, and Perspectives on Anarchist Theory, where she is also a member of the editorial collective.
+Portions of this article appear in Chapter 1 of Other Worlds Here: Honoring Native Women's Writing in Contemporary Anarchist Movements, part of the Critical Insurgencies Series from Northwestern University Press edited by Jodi Byrd and Michelle Wright. Copyright © 2021 by Northwestern University Press. Published 2021. All rights reserved.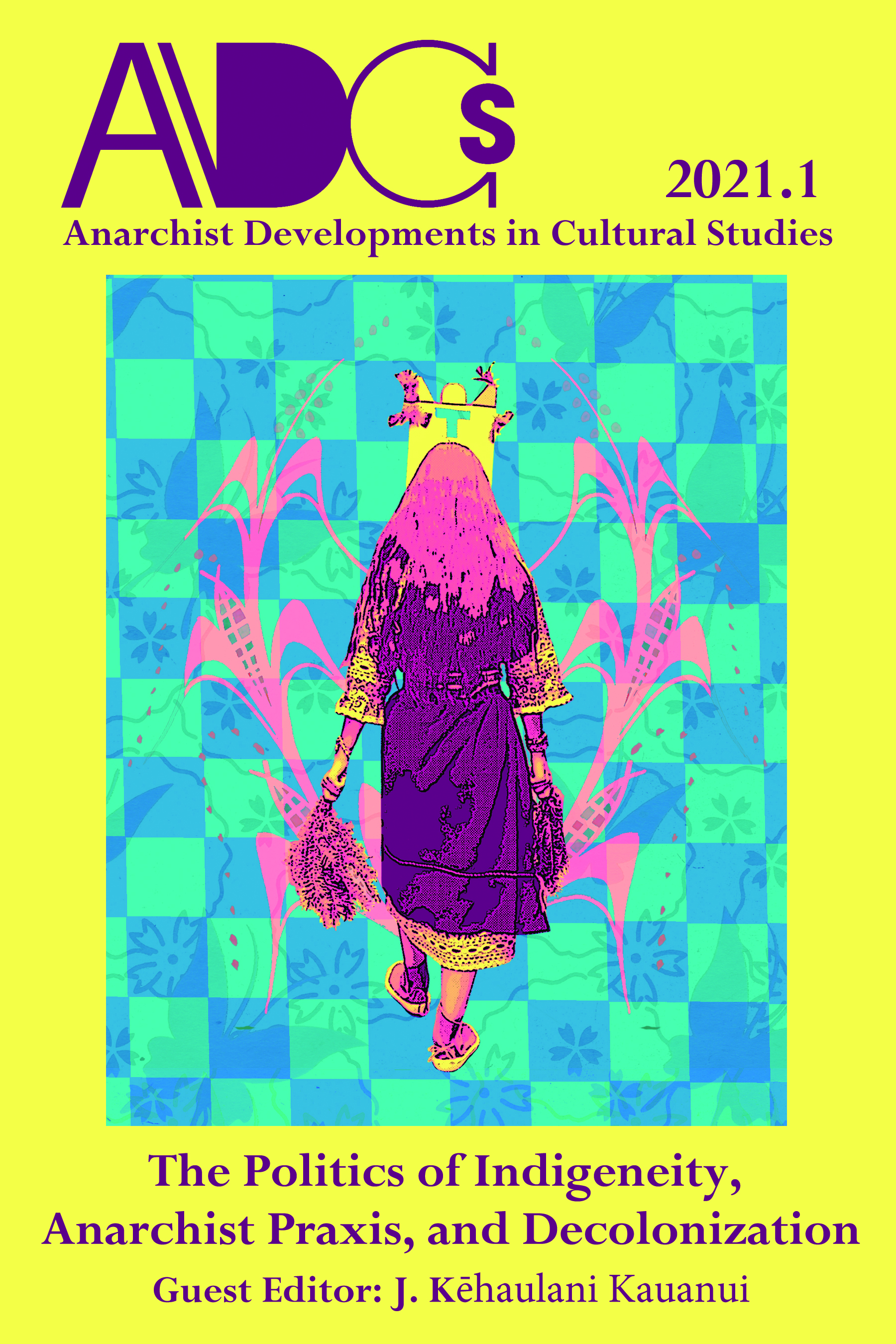 Copyright (c) 2021 Journal Manager; Theresa Warburton
This work is licensed under a Creative Commons Attribution 4.0 International License.
Material published by Anarchist Developments in Cultural Studies is under the Attribution-Noncommercial-Share Alike-3.0 unported creative commons copyright license found here. As such, users are free to share (copy, distribute and transmit the work) and/or remix (to adapt the work), under the following conditions:
Users must attribute the work in the manner specified by the author or licensor (but not in any way that suggests that they endorse you or your use of the work).
You may not use this work for commercial purposes.
If you alter, transform, or build upon this work, you may distribute the resulting work only under the same or similar license to this one.
With the understanding that:
Any of the above conditions can be waived if you get permission from the copyright holder.
Where the work or any of its elements is in the public domain under applicable law, that status is in no way affected by the license.
In no way are any of the following rights affected by the license: (1) your fair dealing or fair use rights, or other applicable copyright exceptions and limitations; (2) the author's moral rights; (3) rights other persons may have either in the work itself or in how the work is used such as publicity or privacy rights.
For any reuse or distribution, you must make clear to others the license terms of this work.