Anarchy In Southeast Asia
Journal Manager

Claudia C. Lodia
Abstract
Claudia C. Lodia is a lecturer in the Department of Asian American Studies at San Francisco State University. She was born and raised in Manila, Philippines. As a queer lesbian Pinay, her research interests lie at the intersections of queer theory, Asian diaspora studies, critical race theory, and activist ethnography. Broadly, her research explores the connections, aspirations, and ruptures between and among themes and ideas in these diverse fields. Before joining the Department of Asian American Studies, Claudia held a Teaching Fellowship and a Writing Fellowship at the California Institute of Integral Studies, where she also received her PhD in Anthropology and Social Change. As part of her on-going activism Claudia has co-organized and facilitated talks on queer Asian diasporic experiences and non-state spaces, contributed commentaries to Io, an international feminist collective based in the Philippines, and participated in activist forums that highlight the role and urgency of co-creating an interdisciplinary social science practice. She has contributed articles and reviews to the Journal of Contemporary Asia, Inter-disciplinary.net, and Anarchist Developments in Cultural Studies. More recently, she participated as a fellow at the 2023 Institute for Critical Social Inquiry (ICSI) Summer Seminar held at the New School for Social Research, New York. She has also begun a collaborative research project that explores the queer outside, a conceptualization inspired by the work of Fred Moten.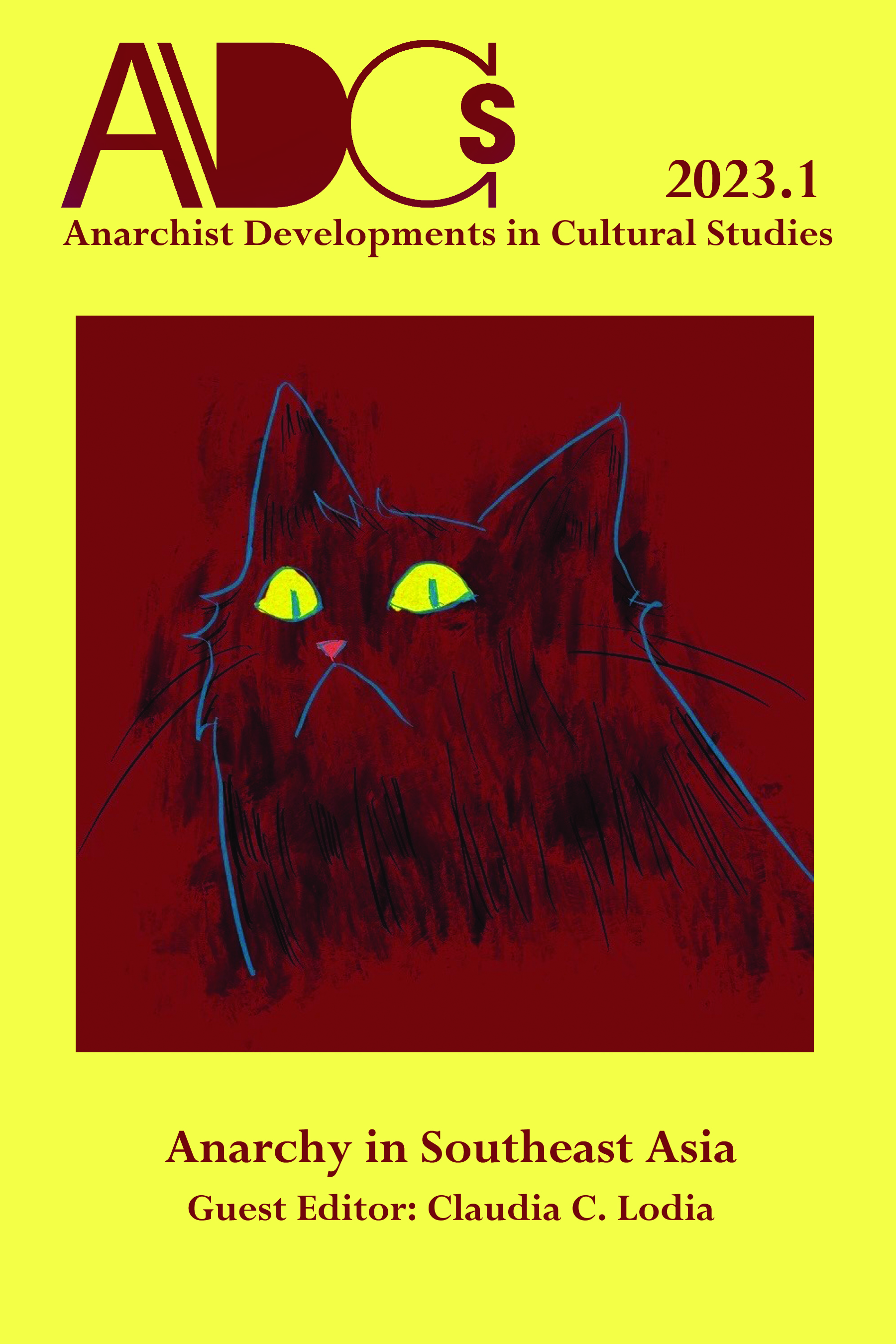 Copyright (c) 2023 Claudia C. Lodia
This work is licensed under a Creative Commons Attribution 4.0 International License.
Material published by Anarchist Developments in Cultural Studies is under the Attribution-Noncommercial-Share Alike-3.0 unported creative commons copyright license found here. As such, users are free to share (copy, distribute and transmit the work) and/or remix (to adapt the work), under the following conditions:
Users must attribute the work in the manner specified by the author or licensor (but not in any way that suggests that they endorse you or your use of the work).
You may not use this work for commercial purposes.
If you alter, transform, or build upon this work, you may distribute the resulting work only under the same or similar license to this one.
With the understanding that:
Any of the above conditions can be waived if you get permission from the copyright holder.
Where the work or any of its elements is in the public domain under applicable law, that status is in no way affected by the license.
In no way are any of the following rights affected by the license: (1) your fair dealing or fair use rights, or other applicable copyright exceptions and limitations; (2) the author's moral rights; (3) rights other persons may have either in the work itself or in how the work is used such as publicity or privacy rights.
For any reuse or distribution, you must make clear to others the license terms of this work.