Cavernous Spaces in Plato and Virgil
Jonathan Año

University of Victoria
Abstract
In Plato's Republic, Socrates presents an epistemological and philosophical analogy where the process of becoming more attuned to the ideal Forms occurs in gradations, as steps, or as gradual shifts from darkness of the Cave to full daylight. Virgil, however, in the Aeneid, describes several caves and uses those topoi as places where characters gain knowledge. I examine how their cavernous rhetoric works, and how Virgil uses his caves as an answer to Plato's Cave, demonstrating this concept in an epic.
References
Elliott, R.K. "Socrates and Plato's Cave." Kant-Studien 58:2 (1967): 137-157. Periodicals
Archive Online. Web. 01 December 2012. http://pao.chadwyck.com.
ezproxy.library.uvic.ca/journals/displayItemFromId.do?QueryType=journals
&ItemID=0171
Morris, T.F. "Plato's Cave." South African Journal of Philosophy 28:4 (2010): 416-432.
EBSCO. Web. 01 December 2012. http://web.ebscohost.com.ezproxy.library.uvic.ca/
ehost/external?sid=d4ed8011-4176-43a9-8f6b-455520352518%40sessionm
gr14&vid=2&hid=19
Plato. The Republic. Trans. Sir Desmond Lee. Ed. Betty Radice. London: Penguin, 2007.
-368. Print.
Saaedi, Pouneh. "Images of Liminality in Book VI of The Aeneid." Comparative Literature and
Culture 11.2 (2009): 1-8. UVic Libraries. Web. 01 December 2012 http://docs.l
ib.purdue.edu/clcweb/vol11/iss2/9
Shiffman, Mark G. "A Platonic Reading of Vergil's Aeneid." Modern Age 43.3 (2001): 211.
America: History and Life with Full Text. EBSCO. Web. 01 December 2012.
http://web.ebscohost.com.ezproxy.library.uvic.ca/ehost/detail?sid=0c8ff33e-df64-407c-a37e-5a956421c741%40sessionmgr10&vid=1&hid=19&bdata
=JnNpdGU9ZWhvc3QtbGl2ZSZzY29wZT1zaXRl#db=31h&AN=5447756
Virgil. The Aeneid. Trans. Robert Fitzgerald. New York: Random House, 1983.
-226. Print.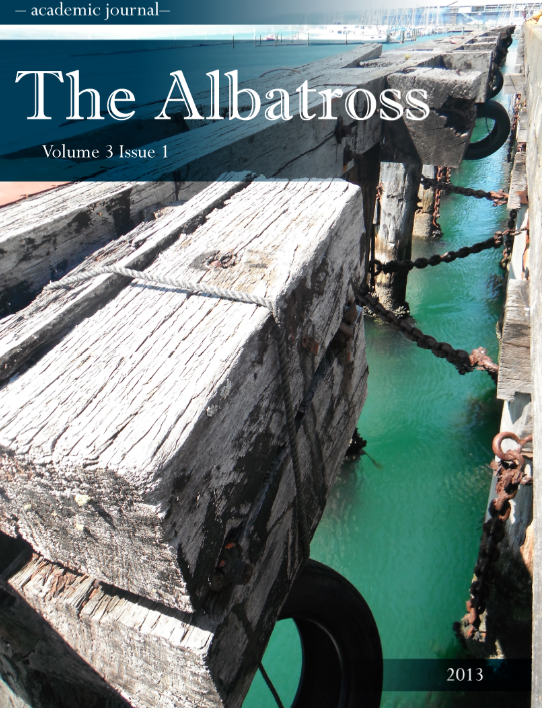 Copyright (c) 2018 Jonathan Año
This work is licensed under a Creative Commons Attribution-NonCommercial 4.0 International License.
Any submissions made by the author to the Albatross are in agreement of release under the Creative Commons Attribution-Noncommercial 3.0 Unported license. This license permits The Albatross as well as others to share this work through any means for non-commercial purposes given that proper attribution is given to the author as well as the publisher.
Authors retain copyright of their work.
By submitting their article to The Albatross, the author grants the The Albatross the rights for first publishing.
Authors are able to enter into separate, additional contractual arrangements for the non-exclusive distribution of the journal's published version of the work (e.g., post it to an institutional repository or publish it in a book), with an acknowledgement of its initial publication in this journal.