"Why Was It We Went Out of the Church?": Night, Day, and Religious Space in The Story of an African Farm
Lee van der Kamp

University of Victoria
Abstract
Discusses Olive Schreiner's The Story of an African Farm in the light of how it fractures Victorian religious discourse. In particular, the essay focuses on how the novel relies on night and day to create religious space, reversing Victorian prioritization of the church and responding to the rise of Evangelical discourse with a pagan regard for the natural world.
References
Baigent, Elizabeth. "'God's earth will be sacred': Religion, Theology and the Open Space Movement in Victorian England." Rural History 22.1 (2011): 31–58. Web.
Best, Geoffrey. "Evangelicalism and the Victorians." The Victorian Crisis of Faith. Ed. Anthony Smith. London: S.P.C.K. 1970. 37-56. Print.
Chadwick, Owen. "The Established Church Under Attack." The Victorian Crisis of Faith. Ed. Anthony Smith. London: S.P.C.K. 1970. 91-106. Print.
Freeman, Hannah. "Dissolution and Landscape in Olive Schreiner's The Story of an African Farm." English Studies in Africa 52.2, (2009): 18-34. Web.
Kissack, Mike and Michael Titlestad. "Olive Schreiner and the Secularization of the Moral Imagination." English in Africa 33.1 (2006): 23-46. Web.
Knechtel, Ruth. "Olive Schreiner's Pagan Animism: An Underlying Unity." English Literature in Transition 53.3 (2010): 259-82. Web.
McLeod, Hugh.. Class and Religion in the Late Victorian City. London: Croom Helm, 1974. Print.
Obelkevich, James. Religion and Rural Society: South Lindsey 1825-1875. Oxford: Clarendon Press, 1976. Print
Schreiner, Olive. The Story of an African Farm. Oxford: Oxford UP. 2008. Print.
Voss, Tony. "'How Are These Things Related That Such Deep Union Should Exist between Them All?': The Textual Integrity of The Story of an African Farm." Journal of Literary Studies 27.1 (2011): 43-64. Web.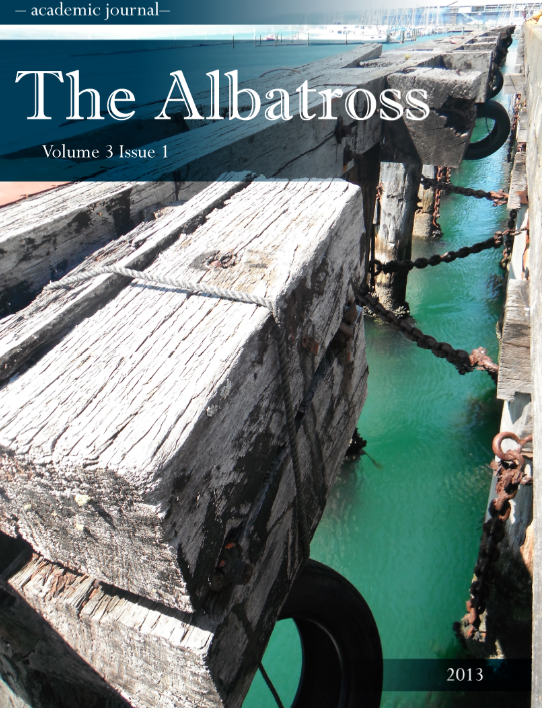 Copyright (c) 2018 Lee van der Kamp
This work is licensed under a Creative Commons Attribution-NonCommercial 4.0 International License.
Any submissions made by the author to the Albatross are in agreement of release under the Creative Commons Attribution-Noncommercial 3.0 Unported license. This license permits The Albatross as well as others to share this work through any means for non-commercial purposes given that proper attribution is given to the author as well as the publisher.
Authors retain copyright of their work.
By submitting their article to The Albatross, the author grants the The Albatross the rights for first publishing.
Authors are able to enter into separate, additional contractual arrangements for the non-exclusive distribution of the journal's published version of the work (e.g., post it to an institutional repository or publish it in a book), with an acknowledgement of its initial publication in this journal.