Expanding the Constitutional Right to State-Funded Legal Counsel to Address the British Columbia Housing Crisis
Abstract
During the 2017 British Columbia provincial election campaign, the housing affordability crisis emerged as one of the top issues for voters. The housing crisis represents a much larger issue of affordability in British Columbia. The civil justice system is another realm in which the gap is widening between the "haves" and the "have nots" in the province. This paper focuses on the inadequate provision of civil legal aid, which is a specific component of the access to justice issue. The Supreme Court of Canada has recognized a constitutional right to state-funded civil legal counsel in certain circumstances based on the right to security of the person, as enshrined in section 7 of the Canadian Charter of Rights and Freedoms. This paper argues that the courts could extend the constitutional right to state-funded counsel to a tenant who is being evicted from their public housing unit by the British Columbia Housing Management Commission. Due to the lack of affordable housing options, eviction could jeopardize the tenant's section 7 right to security of the person. Consequently, the tenant could require legal representation in order to ensure a fair hearing. Furthermore, the tenant's eviction proceeding would likely be triggered by the state.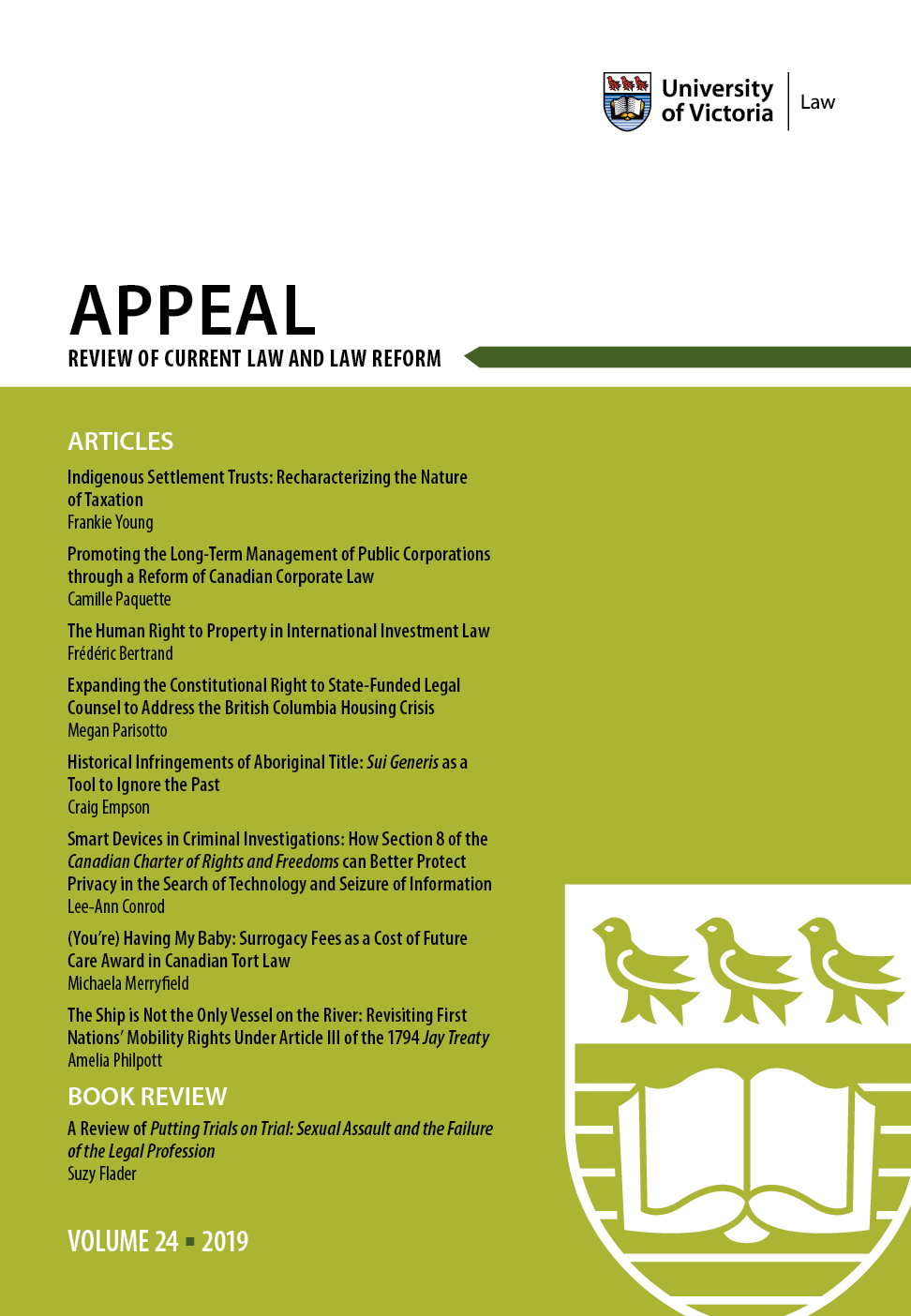 The opinions expressed in APPEAL are those of the authors and do not necessarily represent those of the Editors or the Faculty of Law. APPEAL is a refereed review. While every effort is made by the Publisher and the Editorial Board to ensure that APPEAL contains no inaccurate or misleading data, opinion or statement, the information and opinions contained within are the sole responsibility of the authors. Accordingly, the Publisher, the Editorial Board, the Editors and their respective employees and volunteers accept no responsibility or liability for the consequences of any inaccurate or misleading information, opinion or statement.
Copyright © (2018) Appeal Publishing Society.
All rights reserved. Requests for permission to reproduce or republish any material from anyedition of Appeal should be sent to Appeal Publishing Society.