Historical Infringements of Aboriginal Rights: Sui Generis as a Tool to Ignore the Past
Abstract
The sui generis conception of Aboriginal rights provides tremendous opportunity for those rights to be defined by Aboriginal perspectives. Unfortunately, recent decisions from the Supreme Court of Canada exemplify a prejudicial use of this concept. In Tsilhqot' in, the Court seemed to suggest that the unique nature of Aboriginal title meant a declaration of title does not operate retroactively. This suggestion disregards the notion that Aboriginal title has always existed and that rights are not created by court declaration. In other decisions, however, the Court ignores the sui generis concept and suggests that statutory limitation periods apply to past infringements of Aboriginal rights. The result is a severe restriction on the ability of Aboriginal peoples to seek remedies for past infringements of their lands, even after they have obtained a declaration of title. Moreover, the Court has failed to incorporate Aboriginal perspectives, including historical and ongoing discrimination, the devastating impacts associated with the loss of land, and the potential for Indigenous law to inform the concept of justice in these circumstances. Reliance on the sui generis concept in this manner devalues Aboriginal rights and undermines reconciliation as well as Aboriginal peoples' faith in the Canadian legal system.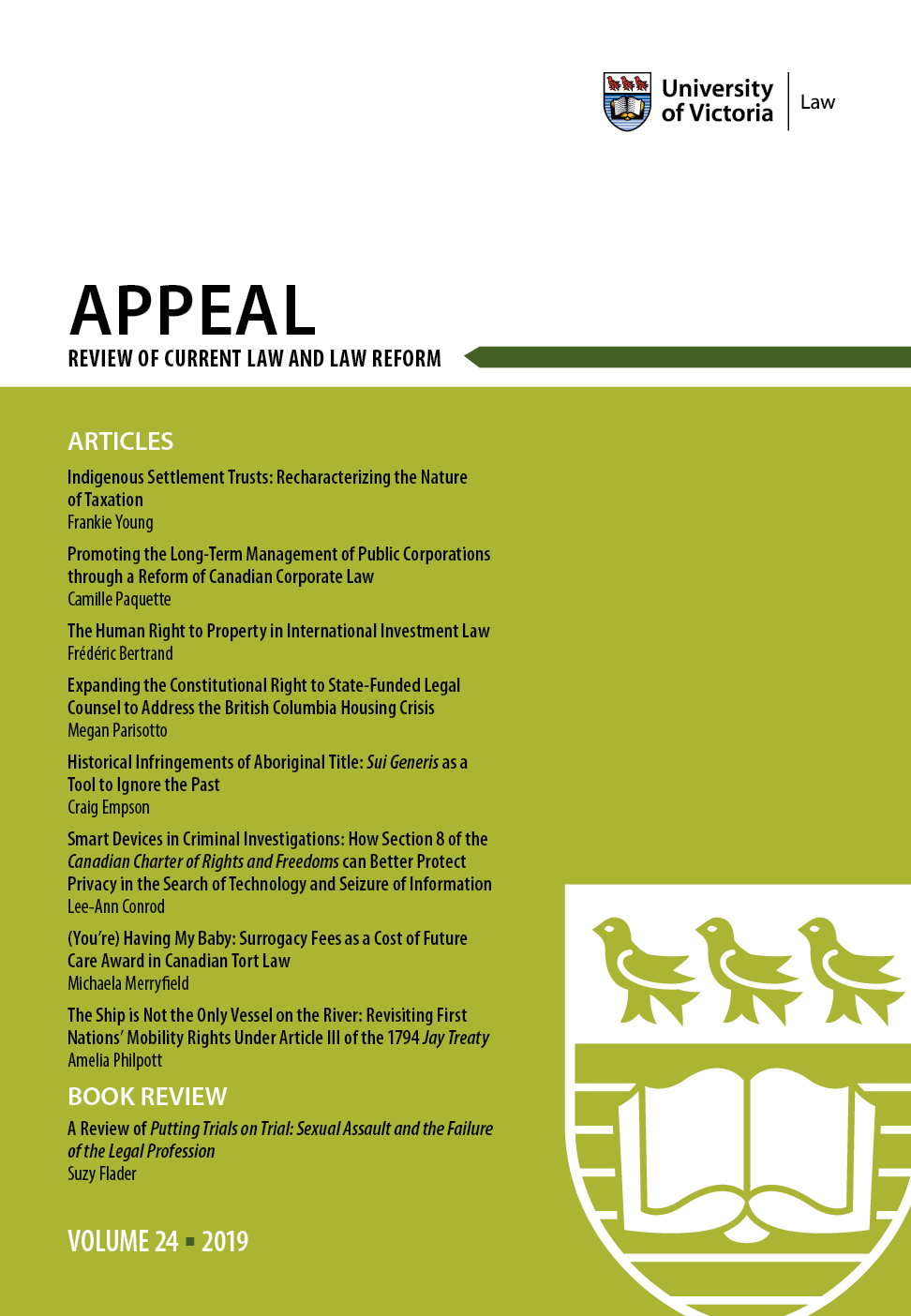 The opinions expressed in APPEAL are those of the authors and do not necessarily represent those of the Editors or the Faculty of Law. APPEAL is a refereed review. While every effort is made by the Publisher and the Editorial Board to ensure that APPEAL contains no inaccurate or misleading data, opinion or statement, the information and opinions contained within are the sole responsibility of the authors. Accordingly, the Publisher, the Editorial Board, the Editors and their respective employees and volunteers accept no responsibility or liability for the consequences of any inaccurate or misleading information, opinion or statement.
Copyright © (2018) Appeal Publishing Society.
All rights reserved. Requests for permission to reproduce or republish any material from anyedition of Appeal should be sent to Appeal Publishing Society.