Fundamental Rights for All
Toward Equality as a Principle of Fundamental Justice under Section 7 of the Charter
Abstract
Section 7 of the Canadian Charter of Rights and Freedoms has led to some groundbreaking wins for Canadians. However, its life, liberty, and security of the person guarantees are not currently expansive enough to truly protect the interests of marginalized claimants. Furthermore, the equality protections guaranteed by section 15 of the Charter are often insufficient for marginalized claimants due to unsettled jurisprudence. In response to the need for novel claims to alleviate complex systemic problems, this paper advocates for the introduction of equality as a principle of fundamental justice underlying the section 7 test. The equality conceptualized at the heart of this argument is intersectional and therefore inclusive of the various barriers that individuals face when attempting to protect their Charter rights. With this definition in mind, the paper considers four Supreme Court of Canada decisions—PHS, Boudreault, Gosselin, and Carter—to examine recent equality trends beyond section 15 of the Charter and consider the pressing need for equality as a new principle of fundamental justice. Finally, the benefits of the proposed principle are weighed against potential judicial concerns in order to suggest that balance will be necessary to satisfy opposing interests. The overall message here is not that Charter litigation can fix every need, but rather that everyone should have fair opportunities to advocate for their protected rights.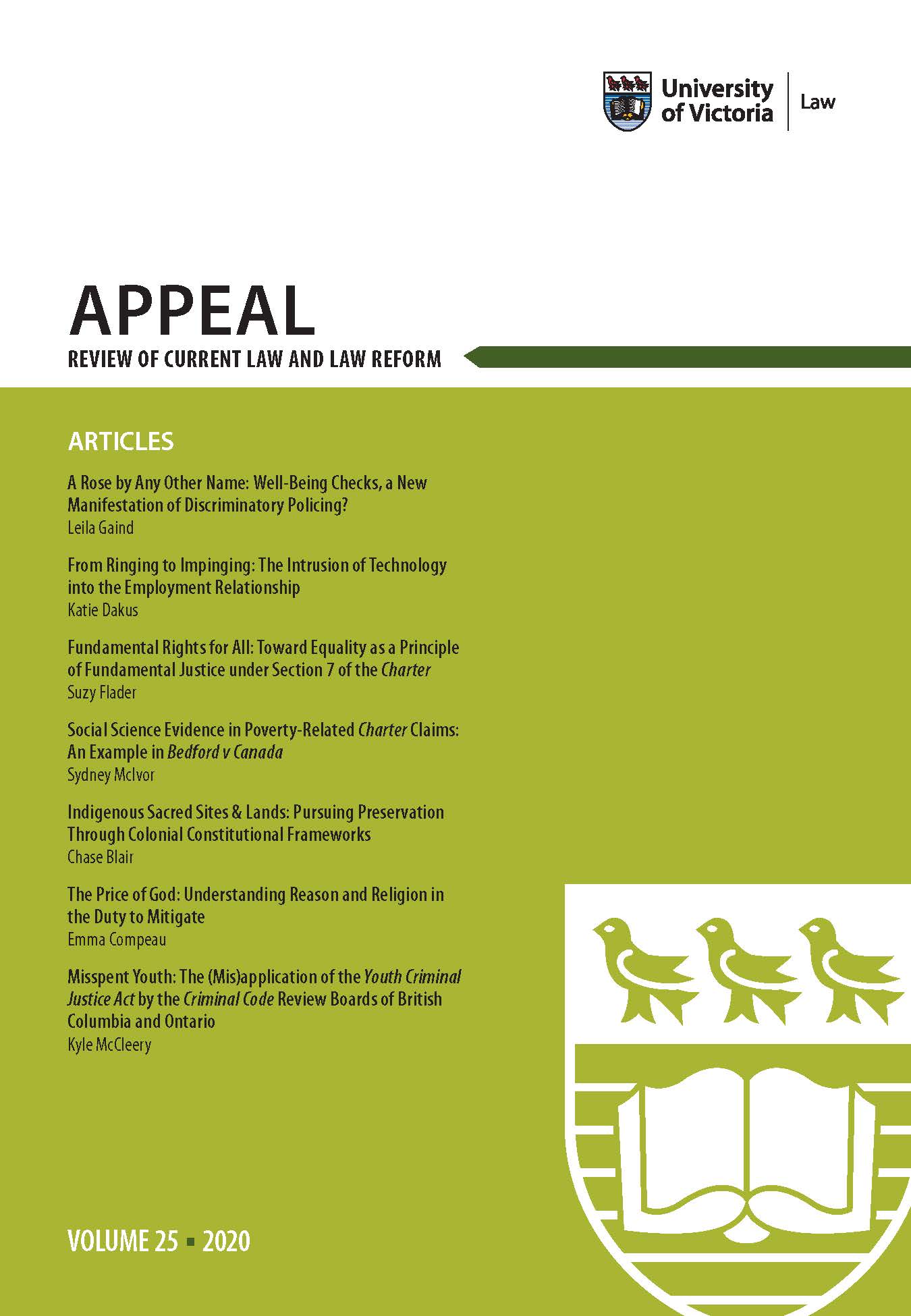 The opinions expressed in APPEAL are those of the authors and do not necessarily represent those of the Editors or the Faculty of Law. APPEAL is a refereed review. While every effort is made by the Publisher and the Editorial Board to ensure that APPEAL contains no inaccurate or misleading data, opinion or statement, the information and opinions contained within are the sole responsibility of the authors. Accordingly, the Publisher, the Editorial Board, the Editors and their respective employees and volunteers accept no responsibility or liability for the consequences of any inaccurate or misleading information, opinion or statement.
Copyright © (2018) Appeal Publishing Society.
All rights reserved. Requests for permission to reproduce or republish any material from anyedition of Appeal should be sent to Appeal Publishing Society.