Seeing Justice Done: Increasing Indigenous Representation on Canadian Juries
Abstract
The underrepresentation of Indigenous people on Canadian juries threatens public confidence in the criminal justice system, particularly in cases involving Indigenous accused or defendants. Despite being the subject of many high-profile legal cases, inquiries, and reports, the problem endures today, and meaningful reform has been elusive. This paper considers the ways in which Indigenous people are excluded at each of the three stages of the juror selection process. It critiques the Supreme Court of Canada's ruling on the issue in the 2015 case of R v Kokopenace and concludes with several recommendations including that citizens be allowed to volunteer for jury duty in order to remedy the race-based disparity in representation on juries.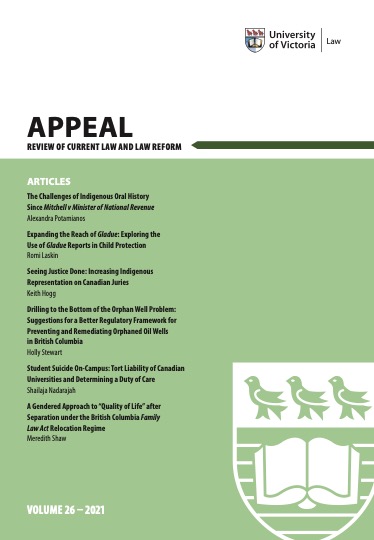 The opinions expressed in APPEAL are those of the authors and do not necessarily represent those of the Editors or the Faculty of Law. APPEAL is a refereed review. While every effort is made by the Publisher and the Editorial Board to ensure that APPEAL contains no inaccurate or misleading data, opinion or statement, the information and opinions contained within are the sole responsibility of the authors. Accordingly, the Publisher, the Editorial Board, the Editors and their respective employees and volunteers accept no responsibility or liability for the consequences of any inaccurate or misleading information, opinion or statement.
Copyright © (2018) Appeal Publishing Society.
All rights reserved. Requests for permission to reproduce or republish any material from anyedition of Appeal should be sent to Appeal Publishing Society.