Drilling to the Bottom of the Orphan Well Problem: Suggestions for a Better Regulatory Framework for Preventing and Remediating Orphaned Oil Wells in British Columbia
Abstract
When an oil firm goes bankrupt, its non-productive oil wells are classified as "orphans" and must be plugged and remediated by provincial regulatory bodies. The number of orphan oil wells has increased significantly in the western oil-producing provinces in the past several years. This paper examines the scope of the orphan well problem in British Columbia, policy tools used to address orphan wells in other jurisdictions, and shortcomings of British Columbia's current regulatory framework. It considers the intersection of bankruptcy law and orphan well remediation recently addressed by the Supreme Court of Canada in Orphan Well Association v Grant Thornton Ltd, 2019 SCC 5, and makes the argument for upfront environmental bonds despite the strong environmental stance taken in that decision.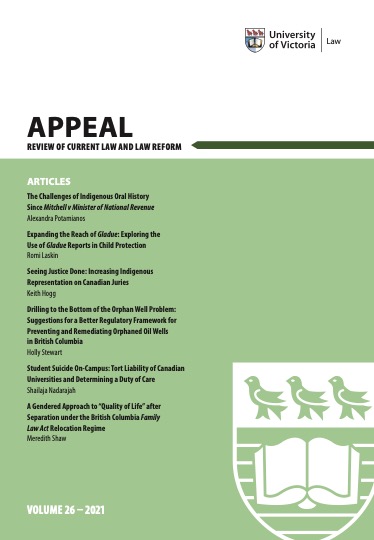 The opinions expressed in APPEAL are those of the authors and do not necessarily represent those of the Editors or the Faculty of Law. APPEAL is a refereed review. While every effort is made by the Publisher and the Editorial Board to ensure that APPEAL contains no inaccurate or misleading data, opinion or statement, the information and opinions contained within are the sole responsibility of the authors. Accordingly, the Publisher, the Editorial Board, the Editors and their respective employees and volunteers accept no responsibility or liability for the consequences of any inaccurate or misleading information, opinion or statement.
Copyright © (2018) Appeal Publishing Society.
All rights reserved. Requests for permission to reproduce or republish any material from anyedition of Appeal should be sent to Appeal Publishing Society.