A Gendered Approach to "Quality of Life" after Separation under the British Columbia Family Law Act Relocation Regime
Abstract
As established in existing literature, the separation of spouses has gendered consequences. Women are likely to suffer more severely, financially, from the dissolution of a relationship and are more likely to experience family violence. Mothers in heterosexual relationships are more likely to have care of children after separation than are fathers. In the face of those challenges, many guardians will apply to relocate for reasons that include seeking out emotional support from extended family and new partners, better financial opportunities, and housing affordability and availability. This article charts and analyzes British Columbia court decisions made under the Division 6 Relocation provisions of the Family Law Act. In Division 6, legislators have directed courts to consider the effects of a proposed relocation on a child's quality of life and that of the guardian who proposed relocation. This article examines how courts have engaged with the many gendered aspects of quality of life following separation. It finds that courts' recognition of family violence's repercussions is uneven and recommends the explicit inclusion of family violence in the Division 6 quality of life provision. It identifies the following as areas for further judicial education: first, family violence and its connections to courts' assessment of female applicants' credibility and to barriers to accessing housing and, second, potential biases in assessments of new female versus new male partners of applicant parents in heterosexual relationships.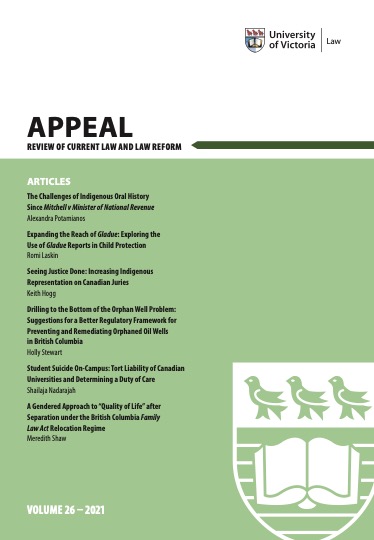 The opinions expressed in APPEAL are those of the authors and do not necessarily represent those of the Editors or the Faculty of Law. APPEAL is a refereed review. While every effort is made by the Publisher and the Editorial Board to ensure that APPEAL contains no inaccurate or misleading data, opinion or statement, the information and opinions contained within are the sole responsibility of the authors. Accordingly, the Publisher, the Editorial Board, the Editors and their respective employees and volunteers accept no responsibility or liability for the consequences of any inaccurate or misleading information, opinion or statement.
Copyright © (2018) Appeal Publishing Society.
All rights reserved. Requests for permission to reproduce or republish any material from anyedition of Appeal should be sent to Appeal Publishing Society.