The Broken Promise Doctrine: AstraZeneca Canada Inc v Apotex Inc and the Future of Pharmaceutical Patents
Abstract
In AstraZeneca Canada Inc v Apotex Inc, the Supreme Court of Canada abolished the so-called promise doctrine in patent law. Large pharmaceutical companies that sought greater patent protections through litigation routinely mischaracterized the promise doctrine. To demonstrate that mischaracterization, this case comment begins by examining historical and international perspectives that informed the Supreme Court's decision. This paper then turns to a critical yet subjective element of the decision: the analysis of the meaning and purpose of "use" and "useful" in the Patent Act. The reasons for the decision are then considered against the advantages that more stringent utility requirements offer to both patent law and the pharmaceutical industry. This paper concludes with the recent legacy of the decision and recommendations for why and how the courts might seek a middle ground for utility promises in patents.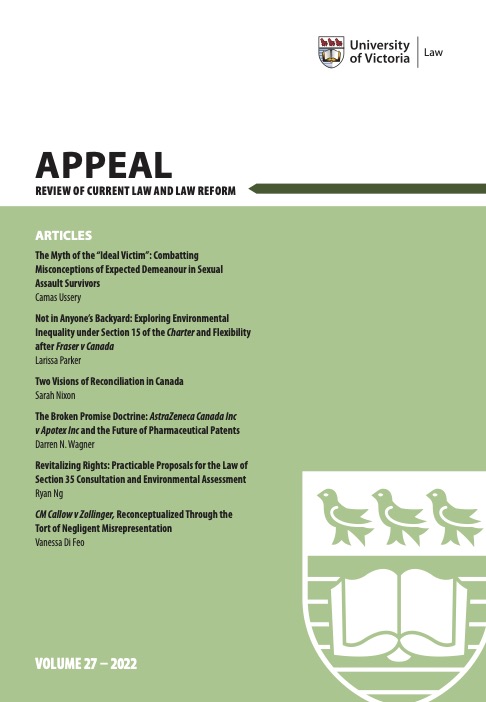 The opinions expressed in APPEAL are those of the authors and do not necessarily represent those of the Editors or the Faculty of Law. APPEAL is a refereed review. While every effort is made by the Publisher and the Editorial Board to ensure that APPEAL contains no inaccurate or misleading data, opinion or statement, the information and opinions contained within are the sole responsibility of the authors. Accordingly, the Publisher, the Editorial Board, the Editors and their respective employees and volunteers accept no responsibility or liability for the consequences of any inaccurate or misleading information, opinion or statement.
Copyright © (2018) Appeal Publishing Society.
All rights reserved. Requests for permission to reproduce or republish any material from anyedition of Appeal should be sent to Appeal Publishing Society.