When Words Can Do Justice
Assessing the Novel Relationship Between Legislative Drafting and Access to Administrative Justice in Yukon and Canada
Abstract
This paper is about legislative definitions and drafting. I will explore if and how a thoughtfully drafted legislative definition of a broad concept in the law, as well as the defining process itself, may be tools for increasing access to justice, specifically in the administrative law context. Given that access to justice strengthens the public's confidence in the administrative justice system (through transparency, predictability, the use of plain language, and the availability of meaningful due process, among other factors), its betterment will reinforce the rule of law.
While this paper begins by discussing far-reaching processes and big concepts, I narrow my analysis to focus specifically on section 12 of the Yukon Human Rights Act, which concerns systemic discrimination and its operability in the Yukon territory. I discuss whether and how re-drafting this provision may occur through an expanded capabilities approach, inspired by Amartya Sen, and complemented by the theoretical ideas of standpoint theory and legal empowerment.
The Yukon case study's teachings and provocations may apply to other situations within Canadian administrative law and beyond. Although there is literature on the place of legislative drafting within the wider Western liberal democratic framework, as well as some separate, limited commentary on the intersection of administrative law and access to justice, my piece is unique in that it combines legislative drafting in the administrative context with considerations of access to justice and the rule of law in a novel way.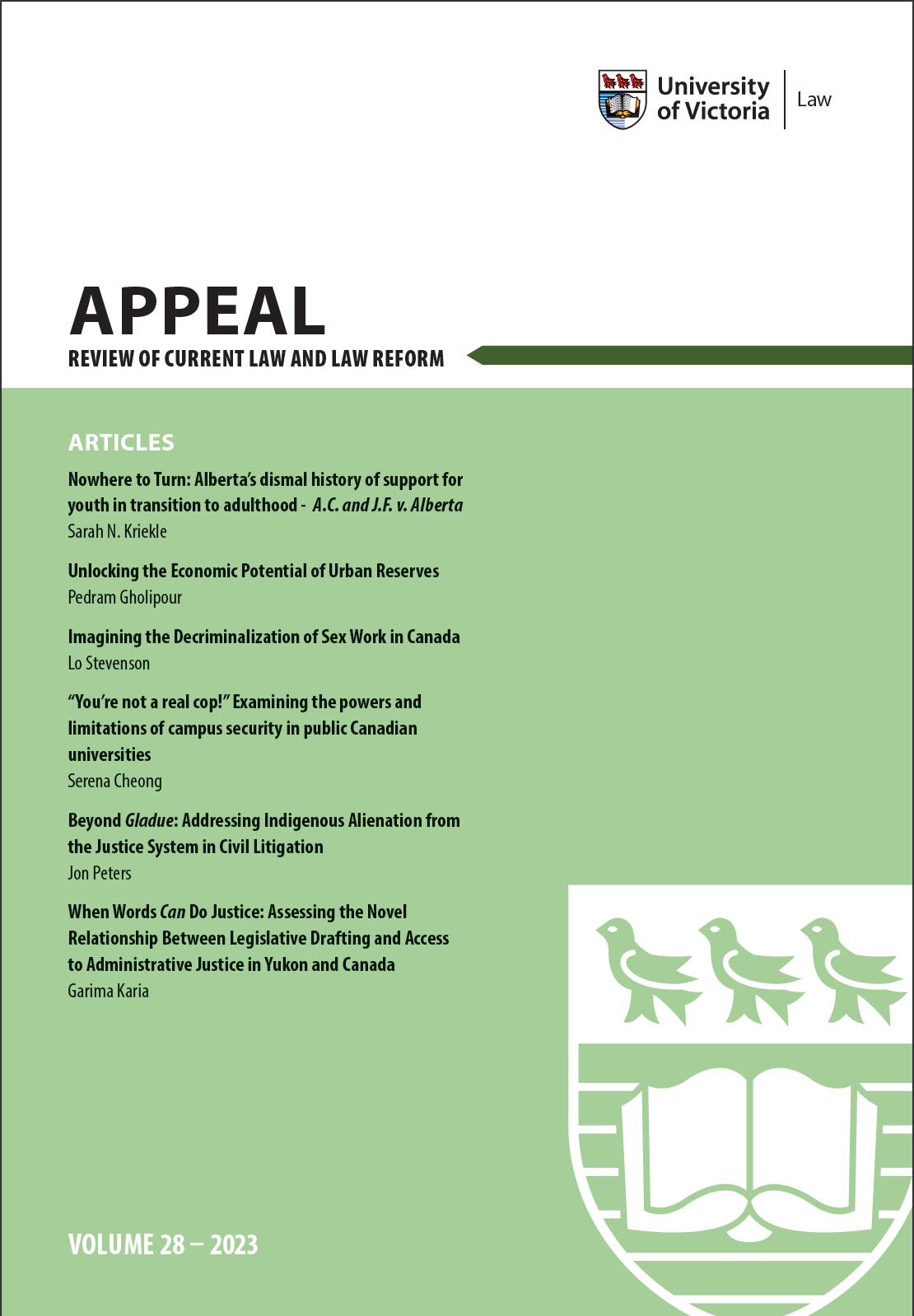 The opinions expressed in APPEAL are those of the authors and do not necessarily represent those of the Editors or the Faculty of Law. APPEAL is a refereed review. While every effort is made by the Publisher and the Editorial Board to ensure that APPEAL contains no inaccurate or misleading data, opinion or statement, the information and opinions contained within are the sole responsibility of the authors. Accordingly, the Publisher, the Editorial Board, the Editors and their respective employees and volunteers accept no responsibility or liability for the consequences of any inaccurate or misleading information, opinion or statement.
Copyright © (2018) Appeal Publishing Society.
All rights reserved. Requests for permission to reproduce or republish any material from anyedition of Appeal should be sent to Appeal Publishing Society.