Knitting for our Lives: The Appropriation of Cowichan Sweaters by the Hudson's Bay During the 2010 Vancouver Olympics
Abstract
In 2010, the Hudson's Bay Company (HBC) produced a mass-manufactured sweater as a part of the official merchandise for the Vancouver Winter Olympics. The sweater turned into a national media controversy, with reporters and the public questioning whether the HBC committed an act of appropriation. In local and provincial newspapers, representatives of the Cowichan Nation stated that the HBC sweater shared many of the same characteristics as a Cowichan sweater. The Cowichan sweater is a traditional Indigenous hand-knitted item crafted by several Coast Salish bands throughout Vancouver Island and the mainland of British Columbia; the main producers of the sweater are knitters from the Cowichan Nation, located in what is now known as Duncan, BC.
In my paper, I will analyze how the HBC's imitations alter the Cowichan sweater's aesthetics, as well as affect those who create the original garments. I will argue that the creation of the HBC Olympic sweater constitutes as a form of cultural appropriation since the spinoff sweaters have appropriated designs, which derive from traditional forms of knowledge and traditional practices of blanket weaving. Secondly, I will demonstrate that the Cowichan people have an economic reliance on knitting, noting that this art is either a main or supplementary income for families who may already have a high need for economic assistance. Finally, I suggest that such acts of appropriation misrepresent Cowichan peoples and are a continuation of colonization. Without respecting Indigenous traditional practices and disregarding the economic impact of appropriation, there is a perpetuation of oppression for the Cowichan peoples, as well as any Indigenous nation facing appropriation. This is especially important as appropriation of Indigenous cultures.
Downloads
Download data is not yet available.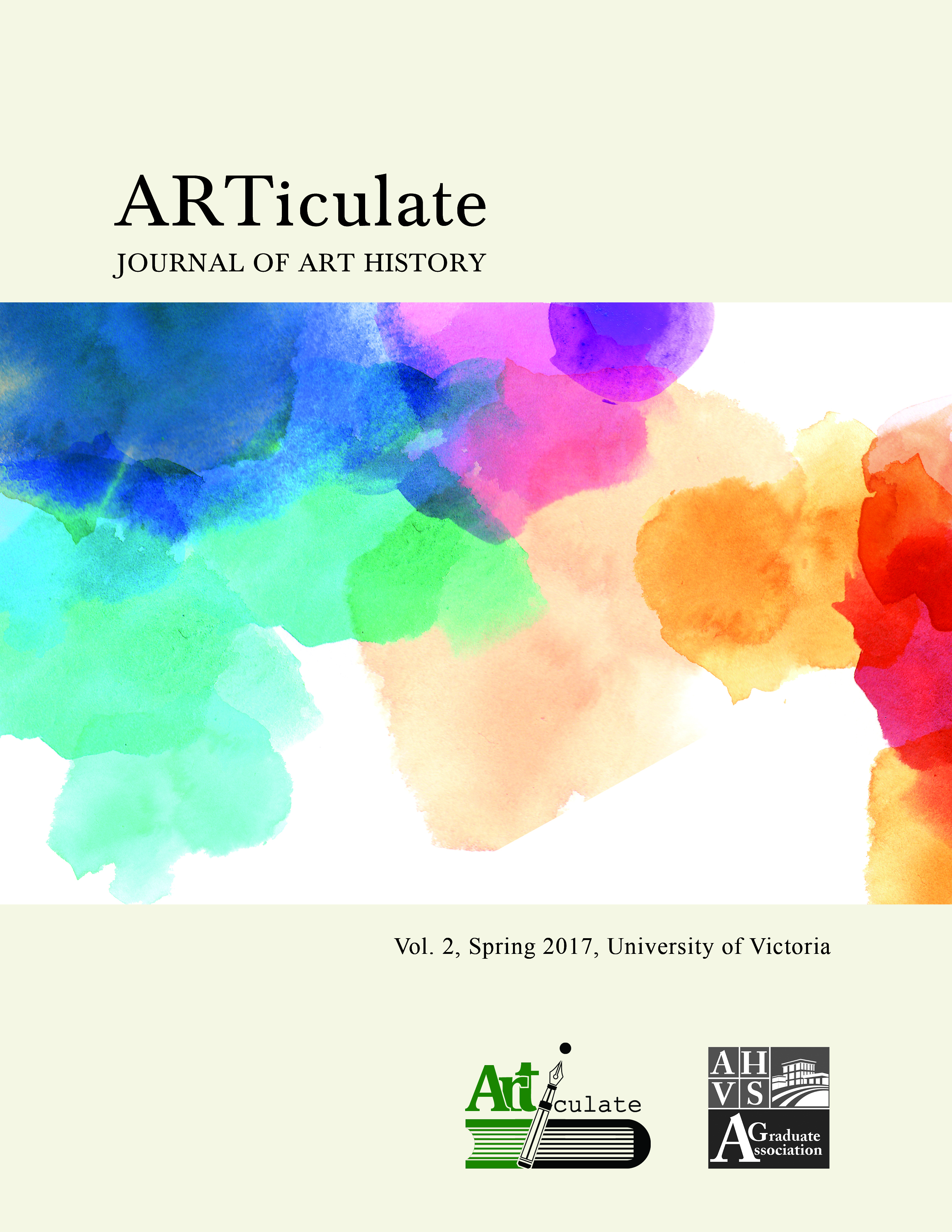 How to Cite
Shrumm, Regan. 2019. "Knitting for Our Lives: The Appropriation of Cowichan Sweaters by the Hudson's Bay During the 2010 Vancouver Olympics". ARTiculate 2 (2). Victoria, British Columbia, Canada, 120-61. https://journals.uvic.ca/index.php/articulate/article/view/18872.
Authors grant ARTiculate first right to publication of their work. Authors retain copyright.
Contributing authors do so under the agreement that they release their essays under the Creative Commons Attribution-Noncommercial 3.0 Unported licence. Under the Open Access policy of the journal, this licence allows anyone to use or share the author's work, on the condition that they provide proper attribution.
Authors may enter into separate, non-exclusive publication agreements for the same work provided a note is included indicating that the essay was first published in ARTiculate Art History.