Tragic to Triumphant: Rosalba Carriera's Self-Portrait, ca. 1746
Christine Oldridge

University of Victoria
Keywords:
Materiality, effigy, visual metaphor, self-portraiture, aging artist, death of the artist, memorialization, self-fashioning, colour theory, gender
Abstract
The intimate artwork of the Venetian pastel artist Rosalba Carriera (1675–1757) catered to international tastes of eighteenth-century European society during a period when women's increasing mobility and visibility in the emerging public sphere resulted in the negotiation of new social identities. Her body of work comprises portraits of European society, sensual allegories, and a range of self-portraiture. Pastels enabled her to tailor her product for her clientele, creating portraits intended for intimate representations of familial connections, while at other times fashioning representations of palpable semi-erotic allegories. Carriera distanced her own self-image from the eroticized nature of some of her works, fashioning herself as an intelligent, pious, virginal marvel. Her self-portraits remain under-explored despite the significance of the artist in the eighteenth-century culture of the Grand Tour, and the keen interest in early modern women artists' self-fashioning in modern scholarship. Focusing on Carriera's Self-Portrait, ca. 1746, my research will investigate how Rosalba constructed a multivalent autoritratto (self-portrait) to show herself as triumphant, fashioning an image that is quite unique within the tradition of artistic self-representation. This painting works in three important ways: firstly, it manipulates Early Modern European visual culture to metaphorically align Carriera to leading minds of the classical and early modern periods; secondly, it claims immortal fame by creating an effigy to live
as an avatar long after the artist's death; and thirdly, it shows Rosalba's authority and skill as an artist via the use of early modern colour theory and a deliberate application of pigment on the canvas. In arguing for a new understanding of this significant female artist, my research will build new and much-needed scholarship on Rosalba Carriera and enrich our understanding of female artistic self-representation within European culture.
Downloads
Download data is not yet available.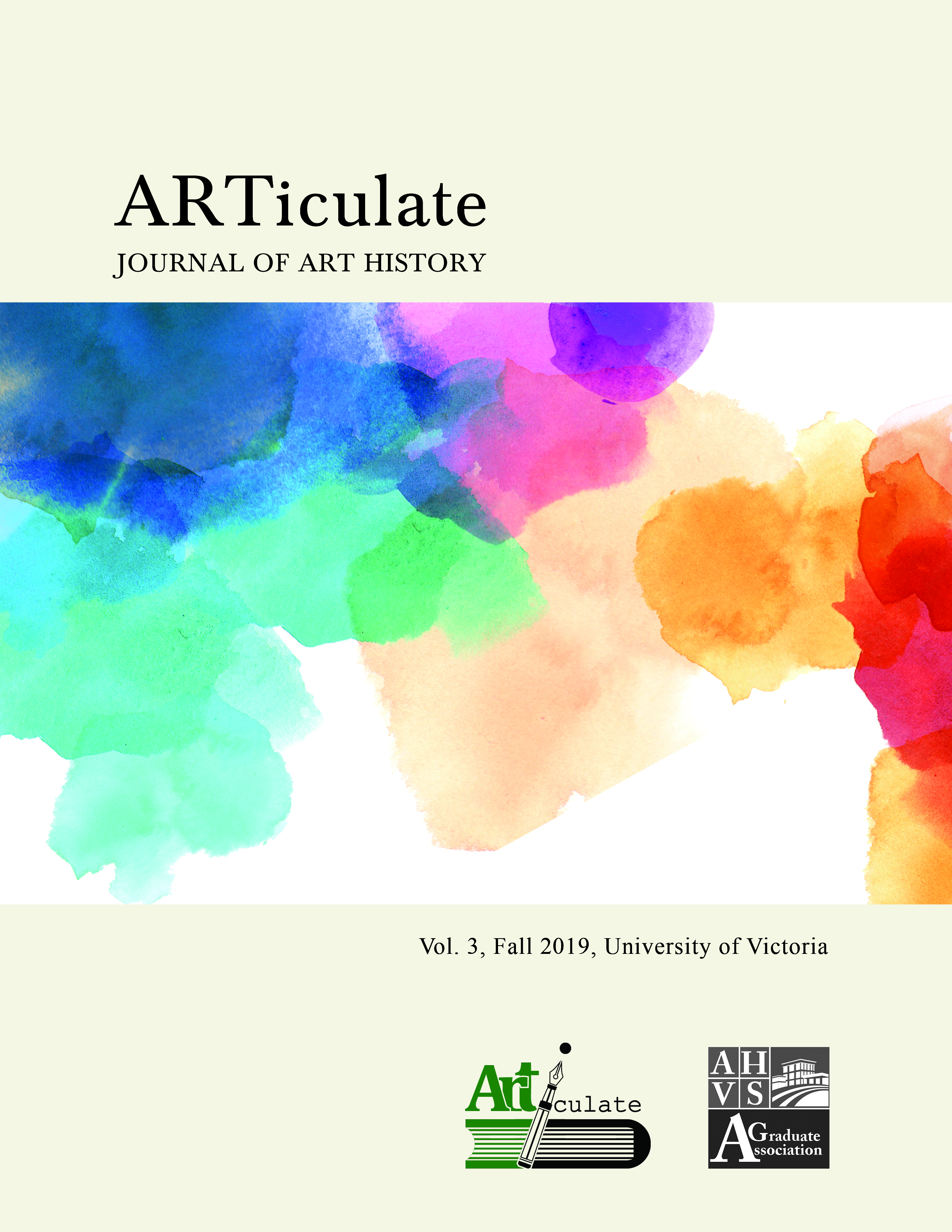 How to Cite
Oldridge, Christine. 2019. "Tragic to Triumphant: Rosalba Carriera's Self-Portrait, Ca. 1746". ARTiculate 3 (December). Victoria, British Columbia, Canada, 32-60. https://journals.uvic.ca/index.php/articulate/article/view/19317.
Copyright (c) 2019 Christine Oldridge
This work is licensed under a Creative Commons Attribution-NonCommercial 4.0 International License.
Authors grant ARTiculate first right to publication of their work. Authors retain copyright.
Contributing authors do so under the agreement that they release their essays under the Creative Commons Attribution-Noncommercial 3.0 Unported licence. Under the Open Access policy of the journal, this licence allows anyone to use or share the author's work, on the condition that they provide proper attribution.
Authors may enter into separate, non-exclusive publication agreements for the same work provided a note is included indicating that the essay was first published in ARTiculate Art History.