Copy That! The Cultural and Social Role of Late-Medieval Venetian Zibaldoni
Brian Pollick

University of Victoria
Keywords:
zibaldoni/commonplace books, late-medieval Venetian manuscripts, social agency of books, late-medieval merchant culture; medieval travel, late medieval Venetian identity, material performativity and social patronage/connection, late medieval cosmology, negotiating morality
Abstract
One of the codicological phenomena of the late middle ages in Italy was the appearance of self-made books—called zibaldone—created by copying passages from a wide variety of other texts, often with illustrations, tables, and diagrams. These were not personal recollections or diaries, but a cross-section of information that spanned the entire spectrum of medieval knowledge. We do not know of many Venetian examples, but two of them have received considerable individual scholarly attention, The Zibaldone da Canal (early 14th century) and The Book of Michael of Rhodes (c. 1435). Although the two have not been studied together, both have been classified as examples of practical commercial/technical manuals for Venetians involved in maritime travel and commercial activity, and this has been the primary scholarly focus. In this article I look at the function of these two manuscripts as socio-cultural objects that speak to the particular interests, concerns, and worldview of their creators. I demonstrate how the texts, diagrams, and images in both codices served similar multifunctional roles in maintaining their owner's civic and moral identity and providing them with physical, intellectual, social, and emotional well-being as Venetian and Christian persons involved in overseas commercial travel. In particular, this study highlights how the information categories of mathematical problems, astrological and calendric information, and prayers and invocations, act as cultural containers that provide for practical skill development, protection of mind, body, and soul, and social representation and interaction. I conclude that this socio-cultural approach to these particular manuscripts gives us an added dimension to understanding the multilayered complexity that underscores the original creation and use of these codices—and by implication the whole genre of zibaldoni—and also helps explain why they continued to hold their value long after the original compilers' deaths.
Downloads
Download data is not yet available.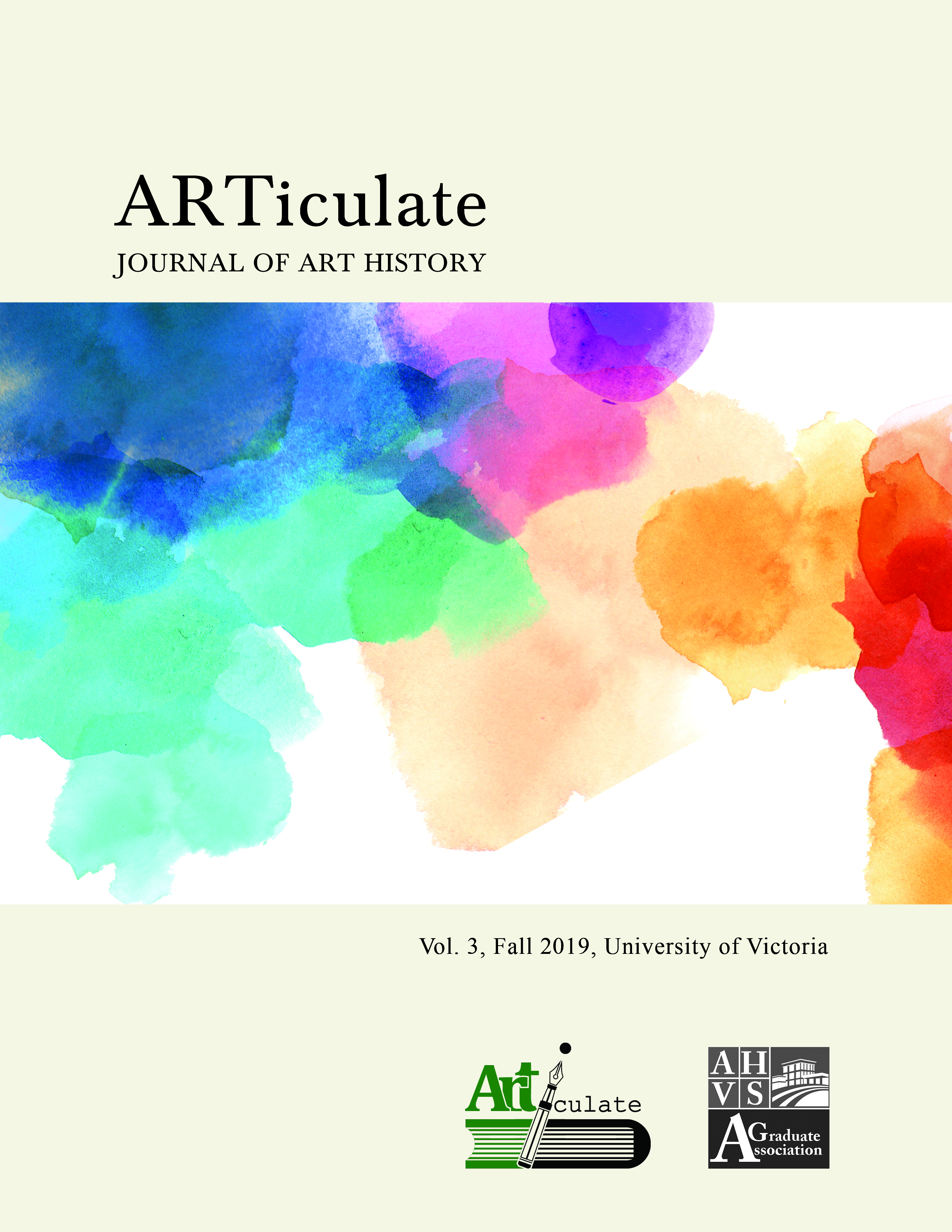 How to Cite
Pollick, Brian. 2019. "Copy That! The Cultural and Social Role of Late-Medieval Venetian Zibaldoni". ARTiculate 3 (December). Victoria, British Columbia, Canada, 5-31. https://journals.uvic.ca/index.php/articulate/article/view/19318.
Copyright (c) 2019 Brian Pollick
This work is licensed under a Creative Commons Attribution-NonCommercial 4.0 International License.
Authors grant ARTiculate first right to publication of their work. Authors retain copyright.
Contributing authors do so under the agreement that they release their essays under the Creative Commons Attribution-Noncommercial 3.0 Unported licence. Under the Open Access policy of the journal, this licence allows anyone to use or share the author's work, on the condition that they provide proper attribution.
Authors may enter into separate, non-exclusive publication agreements for the same work provided a note is included indicating that the essay was first published in ARTiculate Art History.