Picturing Modernism: Architecture, Lifestyle, and the "Embodied Image"
Lindsay Kaisla

University of Victoria
Keywords:
Modernism, mid-century, architecture, photography, iconicity, embodiment, embodied simulation theory, Case Study House #22, Stahl House, Julius Shulman
Abstract
How do architectural images influence our physical experiences of a building or site? Why do some architectural images become iconic, while others fail to resonate? In this essay, I focus on the iconic photograph of the now-famous Stahl House (Case Study House #22) and consider how the image impacts our engagement with the architecture through conscious and non-conscious processes. I analyze the photograph through three different lenses: first, in its context within the greater field of architectural photography; second, as an iconic photograph and its influence on lifestyle and architectural tourism; and finally, through an emerging field of research in the cognitive neurosciences related to the embodied simulation of images. Through these three lenses, I argue that the image works on different levels of embodiment, as a result of the interplay between the published photograph and the built structure. Because this Case Study House was essentially built to be photographed, I contend that the built form serves as a supplement to the published photograph, which ultimately influences our engagement with the actual site. In this essay, I consider the roots of the photograph's iconic status, its role in perpetuating the legacy of its subject, and what this might reveal about our aesthetic and architectural beliefs and experiences. I apply recent research from the cognitive neurosciences to explore how we respond to architectural photographs in general, and the iconic image in particular. I conclude that the two- and threedimensional realms work in concert to influence our engagement and embodied experience of architecture.
Downloads
Download data is not yet available.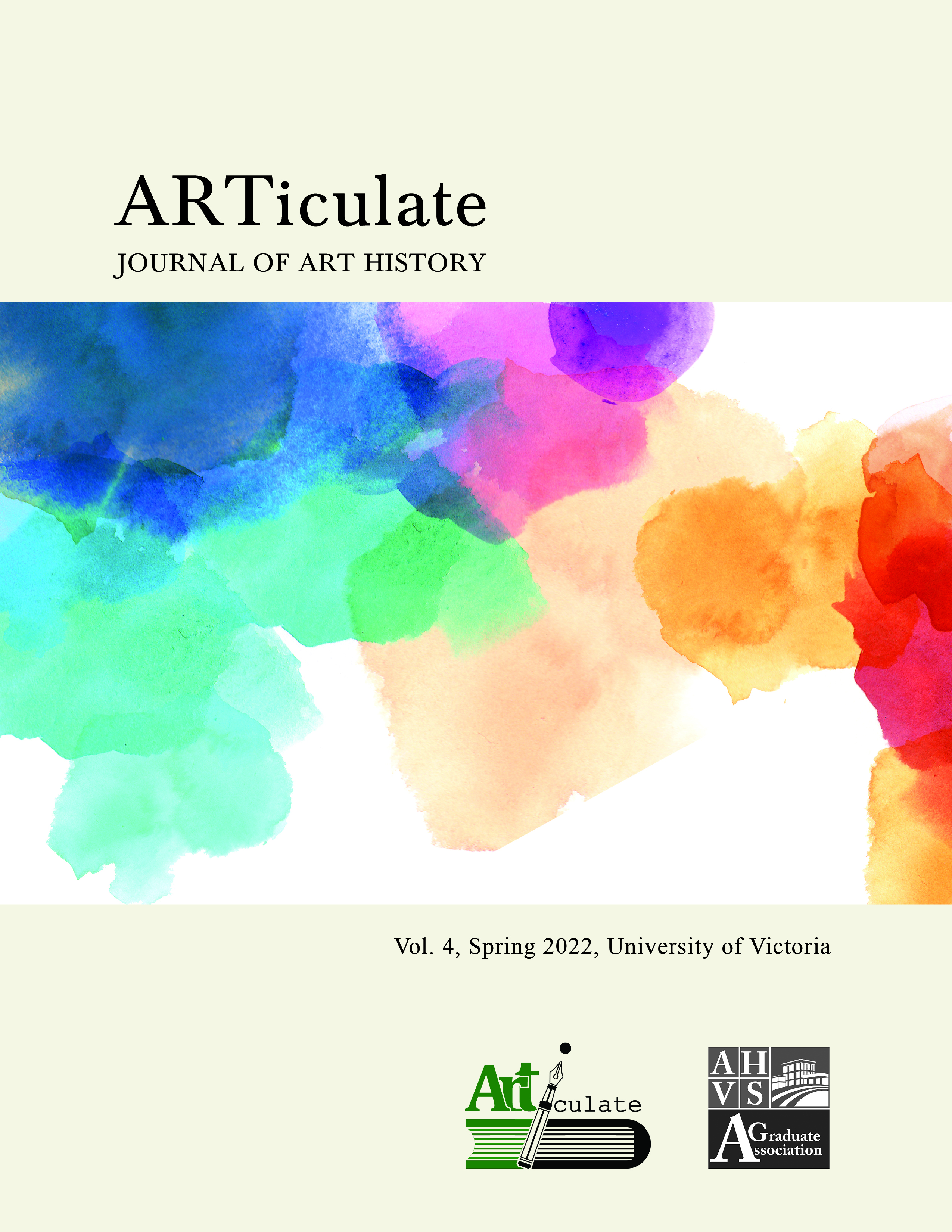 How to Cite
Kaisla, Lindsay. 2023. "Picturing Modernism: Architecture, Lifestyle, and the 'Embodied Image'". ARTiculate 4 (June). Victoria, British Columbia, Canada, 6-35. https://journals.uvic.ca/index.php/articulate/article/view/21429.
Authors grant ARTiculate first right to publication of their work. Authors retain copyright.
Contributing authors do so under the agreement that they release their essays under the Creative Commons Attribution-Noncommercial 3.0 Unported licence. Under the Open Access policy of the journal, this licence allows anyone to use or share the author's work, on the condition that they provide proper attribution.
Authors may enter into separate, non-exclusive publication agreements for the same work provided a note is included indicating that the essay was first published in ARTiculate Art History.