Writings on the Wall: Textual Traces of Transit in the Aegean Borderscape
Ioanna Wagner Tsoni

Anja K. Franck
Abstract
The Greek island of Lesvos has a centuries-old history as a site of departure, arrival, coexistence and resistance for the forcibly displaced. This migratory chronology, however, was overwritten by the unprecedented attention that Lesvos attracted during the 2015 'refugee crisis'. This paper examines vernacular aspects of bordering, specifically the practice of border crossers and other groups standing in solidarity with—or against—them, to inscribe messages on walls in and around carceral and public spaces, viewed as a process of constructing and contesting borders from below. Closely reading numerous inscriptions collected around Lesvos reveals how borders are constructed, enacted and contested from below through borderlanders' discursive practices on some of the very walls that constitute the EU frontier's material infrastructure. This study aims to advance understandings of the historical continuity of the Aegean borderscape as a complex landscape of border effects and affects that exceed borders' legal, infrastructural and political dimensions, while also highlighting the persistence and importance of personal agency, self-authorship and identity reclamation by border populations even in the direst of circumstances.
Downloads
Download data is not yet available.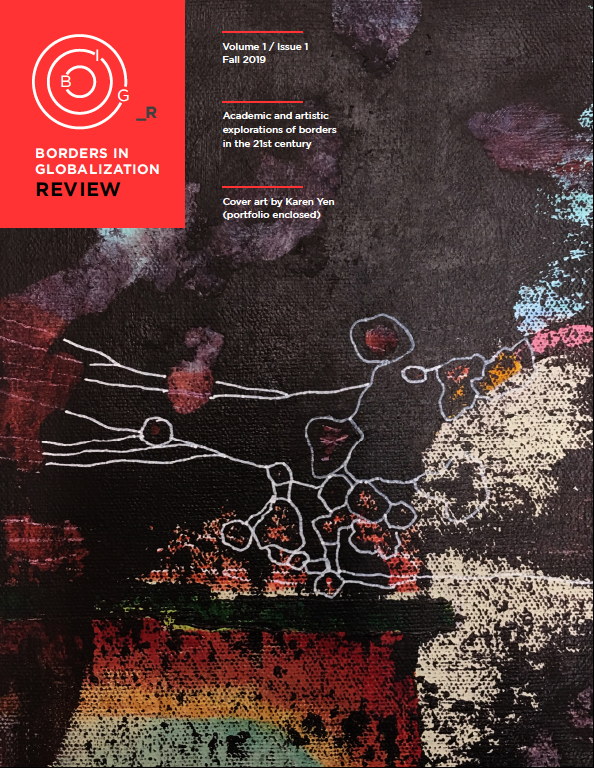 How to Cite
Wagner Tsoni, I., & Franck, A. K. (2019). Writings on the Wall: Textual Traces of Transit in the Aegean Borderscape. Borders in Globalization Review, 1(1), 7-21. https://doi.org/10.18357/bigr11201919243
Copyright (c) 2019 Ioanna Wagner Tsoni, Anja K. Franck
This work is licensed under a Creative Commons Attribution-NonCommercial-ShareAlike 4.0 International License.
Authors retain copyright and grant the journal right of first publication with the work simultaneously licensed under a Creative Commons Attribution-NonCommercial 4.0 International License (CC BY-NC 4.0) that allows others to copy and redistribute the material, to remix, transform and bulid upon the work with an acknowledgement of the work's authorship and initial publication in this journal.
Authors are able to enter into separate, additional contractual arrangements for the non-exclusive distribution of the journal's published version of the work (e.g., post it to an institutional repository or publish it in a book), with an acknowledgement of its initial publication in this journal.
Authors are permitted and encouraged to post their work online (e.g., in institutional repositories or on their website) prior to and during the submission process, as it can lead to productive exchanges, as well as earlier and greater citation of published work (See The Effect of Open Access).
Artists may discuss alternative copyrights with the editors.