The Figure of the Migrant and a Lithuanian Attempt to Escape from Herself
(The case of Sigita Maslauskaitė-Mažylienė)
Basia Nikiforova

Lithuanian Culture Research Institute
Abstract
For those engaged in the visual arts, the notion of the border is not just a physical reality imposed on the landscape by historical circumstances and political forces; it is also the subject of imagination, representation and visualization. For European artists, how migration, refugees and new ethnic and religious communities continue to develop is of particular importance. This essay examines the relativities between the so-called re-territorialization of borders and their materialized visual image. In doing so it seeks to reflect the balance between claims of difference and sameness, and also the dynamics that exist between dominant perceptions and self-representations of the refugees themselves. Over the last decade the notion of border has been fixed and consolidated in the artistic consciousness, especially how this phenomenon – barrier, walls or fences – can divide. With the crisis of mass migration in recent years, there has been an accompanying sense of dread, horror, a fear of death and the loss of family. The experience and ideas of the Lithuanian artist, Sigita Maslauskaitė-Mažylienė, is useful because it sheds light on the interconnections between new discourses and art practices, and may help us to better understand how Lithuanian people perceive the process of migration and its accompanying problems and issues.
Downloads
Download data is not yet available.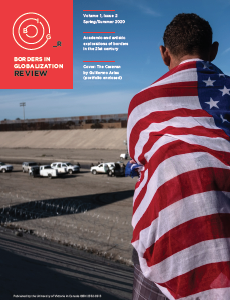 How to Cite
Nikiforova, Basia. 2020. "The Figure of the Migrant and a Lithuanian Attempt to Escape from Herself: (The Case of Sigita Maslauskaitė-Mažylienė)". Borders in Globalization Review 1 (2). Victoria, British Columbia, Canada, 103-10. https://doi.org/10.18357/bigr12202019366.
Copyright (c) 2020 Basia Nikiforova
This work is licensed under a Creative Commons Attribution-NonCommercial-ShareAlike 4.0 International License.
Authors retain copyright and grant the journal right of first publication with the work simultaneously licensed under a Creative Commons Attribution-NonCommercial 4.0 International License (CC BY-NC 4.0) that allows others to copy and redistribute the material, to remix, transform and bulid upon the work with an acknowledgement of the work's authorship and initial publication in this journal.
Authors are able to enter into separate, additional contractual arrangements for the non-exclusive distribution of the journal's published version of the work (e.g., post it to an institutional repository or publish it in a book), with an acknowledgement of its initial publication in this journal.
Authors are permitted and encouraged to post their work online (e.g., in institutional repositories or on their website) prior to and during the submission process, as it can lead to productive exchanges, as well as earlier and greater citation of published work (See The Effect of Open Access).
Artists may discuss alternative copyrights with the editors.