Palestine and the Habeas Viscus
An Auto-ethnography of Travel, Visa Violence, and Borders
Abdalhadi Alijla

Orient Institute Beirut
Abstract
Borders have been a political tool to control, manipulate and affect the lives and movements of individual and groups. These borders can also work as a barrier designed and used to discriminate against specific ethnic, religious, or linguistic groups and individuals for political reasons. In specific cases, borders can create a generation of exception, where the lives of a particular group of individuals matter less than others. The Palestinians in Gaza have been living in a state of exception, where their lives have been animalized and constrained both within the Gaza Strip, but also outside the Gaza Strip, at border points of entry in many places. This paper is an auto-ethnography of the lives of Palestinians as a state of exception, visa violence, airports and borders. It examines and describes, as an anthropological phenomenon, experiences such as visa application processes, rejection, travel and encounters with border officials. The article starts with describing the state of exception of a generation who were born and grew up under Israeli occupation. The paper then examines and analyzes the process and ritual of travelling as a quasi-citizen through various border points of entry. This article is an anthropological narrative of how a continuous state of exception and profiling of an individual creates a homo-sacer man.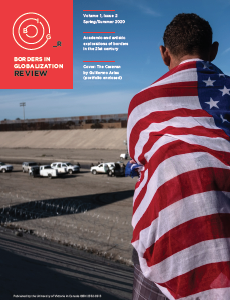 Copyright (c) 2020 Abdalhadi Alijla
This work is licensed under a Creative Commons Attribution-NonCommercial-ShareAlike 4.0 International License.
Authors retain copyright and grant the journal right of first publication with the work simultaneously licensed under a Creative Commons Attribution-NonCommercial 4.0 International License (CC BY-NC 4.0) that allows others to copy and redistribute the material, to remix, transform and bulid upon the work with an acknowledgement of the work's authorship and initial publication in this journal.
Authors are able to enter into separate, additional contractual arrangements for the non-exclusive distribution of the journal's published version of the work (e.g., post it to an institutional repository or publish it in a book), with an acknowledgement of its initial publication in this journal.
Authors are permitted and encouraged to post their work online (e.g., in institutional repositories or on their website) prior to and during the submission process, as it can lead to productive exchanges, as well as earlier and greater citation of published work (See The Effect of Open Access).
Artists may discuss alternative copyrights with the editors.