Refugees and the Dublin Convention
A Biographical Evaluation of Inner European Borders
Anja Bartel

University of Strasbourg

Catherine Delcroix

Elise Pape
Abstract
The Dublin Convention defines which EU State is responsible for the asylum application of third country nationals or stateless persons. According to this Convention, the first Member State in which an asylum seeker enters is responsible for the person's asylum procedure. It thereby stands in gross contrast to the freedom of mobility of EU-citizens within Europe. While extensive research has focused on the attempts to build up a Common European Asylum System, mostly taking up an institutional perspective, only limited sociological research has concentrated on the perspective of refugees and on the way they are affected by the Dublin Regulation and react to it. This article explores the biographical impacts of the Dublin Convention and the reaction of concerned individuals to it through the method of biographical policy evaluation. It bases on 29 biographical interviews conducted with refugees affected by the Dublin Regulation in France. It provides an in-depth analysis of three key biographical moments regarding the Dublin Convention: the arrival in France, the process of integration and moments when refugees change the European State they live in after having sought for asylum. It shows that beyond the (intended) impact on the "choice" of the country of arrival, the Dublin Convention often impacts refugees' integration processes in a long-lasting way.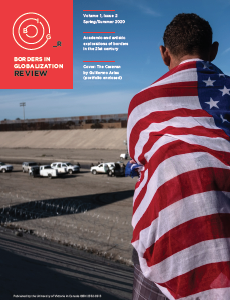 Copyright (c) 2020 Anja Bartel, Elise Pape, Catherine Delcroix
This work is licensed under a Creative Commons Attribution-NonCommercial-ShareAlike 4.0 International License.
Authors retain copyright and grant the journal right of first publication with the work simultaneously licensed under a Creative Commons Attribution-NonCommercial 4.0 International License (CC BY-NC 4.0) that allows others to copy and redistribute the material, to remix, transform and bulid upon the work with an acknowledgement of the work's authorship and initial publication in this journal.
Authors are able to enter into separate, additional contractual arrangements for the non-exclusive distribution of the journal's published version of the work (e.g., post it to an institutional repository or publish it in a book), with an acknowledgement of its initial publication in this journal.
Authors are permitted and encouraged to post their work online (e.g., in institutional repositories or on their website) prior to and during the submission process, as it can lead to productive exchanges, as well as earlier and greater citation of published work (See The Effect of Open Access).
Artists may discuss alternative copyrights with the editors.