Northern Ireland: Managing COVID-19 Across Open Borders
Managing Covid-19 in Northern Ireland
Katy Hayward

Queen's University Belfast
Abstract
The early response to the coronavirus pandemic in Northern Ireland revealed three things. First, although part of the United Kingdom, Northern Ireland is integrally connected in very practical ways to the Republic of Ireland. Policies and practices regarding COVID-19 on the southern side of the Irish land border had a direct impact on those being formulated for the North. Secondly, as well as differences in scientific advice and political preferences in the bordering jurisdictions, a coherent policy response was delayed by leaders' failures to communicate in a timely manner with counterparts on the other side of the border. And, thirdly, different policies on either side of an open border can fuel profound uncertainty in a borderland region; but this can give rise to community-level action that fills the gaps in ways that can actually better respond to the complexity of the situation. This essay draws on the author's close observation of events as they happened, including news coverage, press conferences and public statements from the three governments concerned over the period of March-October 2020. 
Downloads
Download data is not yet available.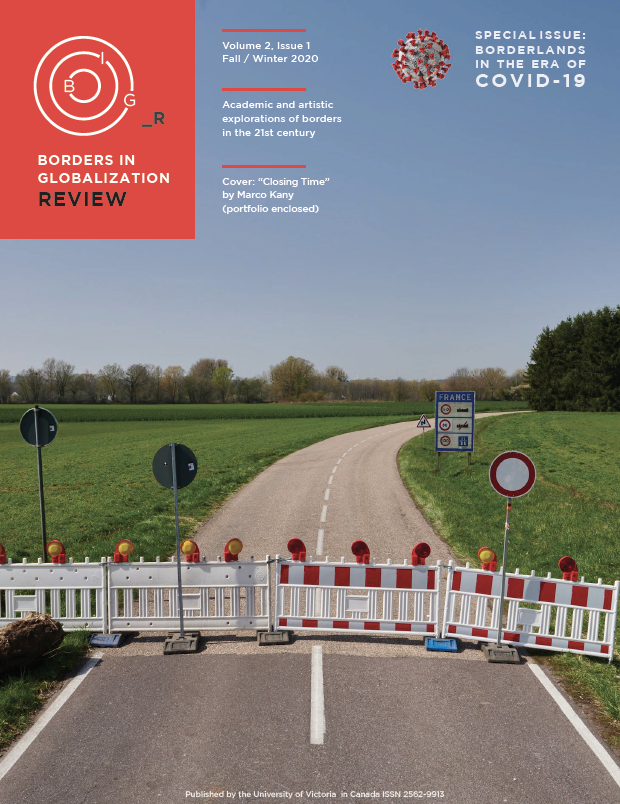 How to Cite
Hayward, Katy. 2020. "Northern Ireland: Managing COVID-19 Across Open Borders: Managing Covid-19 in Northern Ireland". Borders in Globalization Review 2 (1). Victoria, British Columbia, Canada, 58-61. https://doi.org/10.18357/bigr21202019887.
Copyright (c) 2020 Katy Hayward
This work is licensed under a Creative Commons Attribution-NonCommercial-ShareAlike 4.0 International License.
Authors retain copyright and grant the journal right of first publication with the work simultaneously licensed under a Creative Commons Attribution-NonCommercial 4.0 International License (CC BY-NC 4.0) that allows others to copy and redistribute the material, to remix, transform and bulid upon the work with an acknowledgement of the work's authorship and initial publication in this journal.
Authors are able to enter into separate, additional contractual arrangements for the non-exclusive distribution of the journal's published version of the work (e.g., post it to an institutional repository or publish it in a book), with an acknowledgement of its initial publication in this journal.
Authors are permitted and encouraged to post their work online (e.g., in institutional repositories or on their website) prior to and during the submission process, as it can lead to productive exchanges, as well as earlier and greater citation of published work (See The Effect of Open Access).
Artists may discuss alternative copyrights with the editors.