Rohingya Refugees in South Asia: An Exploration of Social Borders and the Margins
Rachel Irene D'Silva

Phd Candidate
Abstract
By reviewing the case of the Rohingya, a marginalized community in the postcolonial state of Myanmar, this article (as part of a special section on South Asian border studies) explores the perspective of Rohingya refugees and conceptualizes social borders from the voices of the refugees. Juxtaposing postcolonial borders with narrations of Rohingya in India brings out the politics of the marginalized communities in the country's borderlands. The article shows how borderscapes are shaped for refugees that articulate ideas of social justice and recognition. Building on international studies of the Rohingya, I conducted fieldwork into the situation of the Rohingya in India. The resulting interviews add to our understanding of Rohingya refugees and address a scarcity of literature on the Rohingya in border studies. Through the analysis, I discover the history of the Rohingya identity in Myanmar, which contextualizes their statelessness. Social borders and state legislation reinforce barriers to citizenship and sharpen the exclusion of migrants, refugees, and other stateless peoples in South Asia. 
Keywords: South Asia, Refugees, Rohingya, post-colonial states, boundaries, borders, margins, Southeast Asia, marginal communities.
Downloads
Download data is not yet available.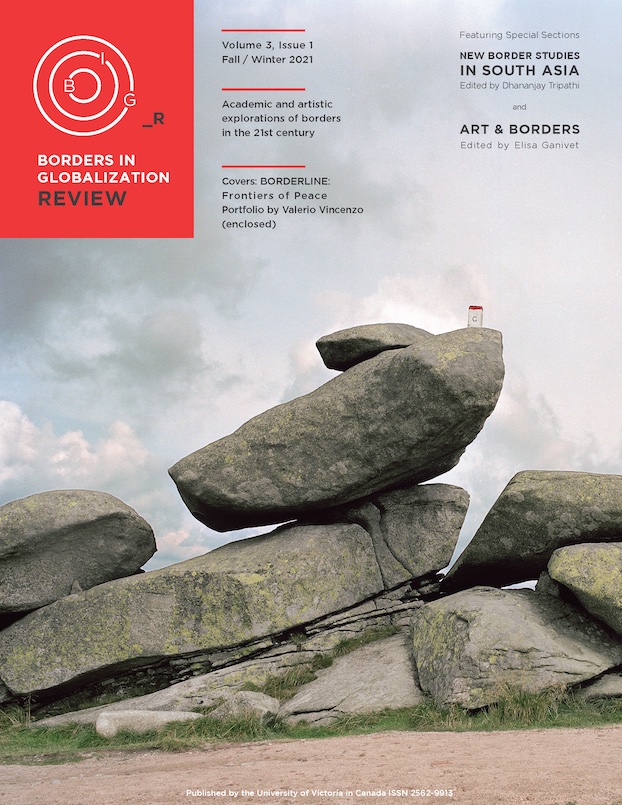 How to Cite
D'Silva, R. I. (2021). Rohingya Refugees in South Asia: An Exploration of Social Borders and the Margins. Borders in Globalization Review, 3(1), 35-45. https://doi.org/10.18357/bigr31202120261
Copyright (c) 2021 Rachel Irene D'Silva
This work is licensed under a Creative Commons Attribution-NonCommercial-ShareAlike 4.0 International License.
Authors retain copyright and grant the journal right of first publication with the work simultaneously licensed under a Creative Commons Attribution-NonCommercial 4.0 International License (CC BY-NC 4.0) that allows others to copy and redistribute the material, to remix, transform and bulid upon the work with an acknowledgement of the work's authorship and initial publication in this journal.
Authors are able to enter into separate, additional contractual arrangements for the non-exclusive distribution of the journal's published version of the work (e.g., post it to an institutional repository or publish it in a book), with an acknowledgement of its initial publication in this journal.
Authors are permitted and encouraged to post their work online (e.g., in institutional repositories or on their website) prior to and during the submission process, as it can lead to productive exchanges, as well as earlier and greater citation of published work (See The Effect of Open Access).
Artists may discuss alternative copyrights with the editors.