Identity, Religion and Difference in the Borderland District of Poonch, Jammu and Kashmir
Abstract
This article (part of a special section on South Asian border studies) is an exploration of a multi-religious ethnic group in the borderland district of Poonch in Jammu and Kashmir, India. The work focuses on the Pahari ethnicity and looks at how prominent religious identities within this group have been continuously aligning themselves along religious lines in the post-partition era. Partition of the Indian subcontinent in 1947 acted as a major disruption in the construction of identities. The evolution of national and ethnic identities went hand in hand with the evolution of religious identities, with the latter being more pronounced than the former. Such a fixation along religious lines in the socio-cultural and political sphere led to changes in everyday inter-community relations. Through oral histories and other accounts, this ethnography understands the new set of interactions that emerged in Poonch which have been shaping identities, while also analysing identity construction and its impact on the social organisation of space and neighbourhoods in general in the post-partition era.
Key Words: Borderland, Border, Boundaries, Community, Communalism, Difference, Ethnicity, Identity, Inter-community interaction, Nation, Nation-State, Othering, Religion 
Downloads
Download data is not yet available.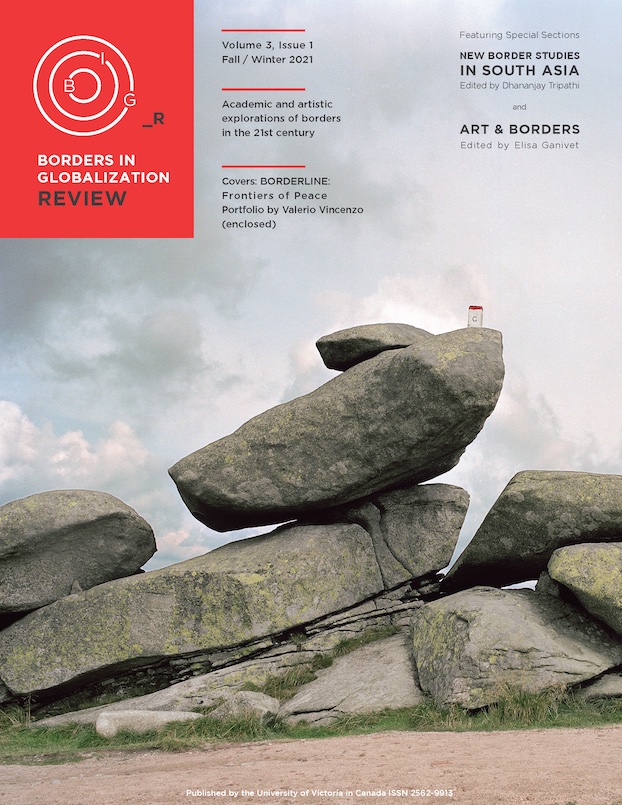 How to Cite
Sharma, M. (2021). Identity, Religion and Difference in the Borderland District of Poonch, Jammu and Kashmir. Borders in Globalization Review, 3(1), 24-34. https://doi.org/10.18357/bigr31202120263
Copyright (c) 2021 Malvika Sharma
This work is licensed under a Creative Commons Attribution-NonCommercial-ShareAlike 4.0 International License.
Authors retain copyright and grant the journal right of first publication with the work simultaneously licensed under a Creative Commons Attribution-NonCommercial 4.0 International License (CC BY-NC 4.0) that allows others to copy and redistribute the material, to remix, transform and bulid upon the work with an acknowledgement of the work's authorship and initial publication in this journal.
Authors are able to enter into separate, additional contractual arrangements for the non-exclusive distribution of the journal's published version of the work (e.g., post it to an institutional repository or publish it in a book), with an acknowledgement of its initial publication in this journal.
Authors are permitted and encouraged to post their work online (e.g., in institutional repositories or on their website) prior to and during the submission process, as it can lead to productive exchanges, as well as earlier and greater citation of published work (See The Effect of Open Access).
Artists may discuss alternative copyrights with the editors.