The Border-Development-Climate Change Nexus: Precarious Campesinos at the Selva Maya Mexico–Guatemala Border
Abstract
Borderlands can be places of socio-economic tensions, development challenges, and ecological risks, now exacerbated by climate change. We investigate the border-development-climate change nexus using research from Calakmul, Mexico and Petén, Guatemala, to detail the lived experiences and vulnerabilities of campesinos in the Selva Maya cross-border region. Our mixed methods approach combines historical analysis and ethnographic interviews with 70 campesinos. We demonstrate how large scale development approaches result in local and specific policy interventions, but produce mixed outcomes for campesinos, neglecting the most marginalized. Despite the absence of any major border crossings, a porous border in this area allows flows of people, goods, and services to connect the region, but there are differential national outcomes. In Petén, many campesinos suffer from 'irregularity' (lacking rights to the lands where they live and cultivate), preventing access to state development benefits. In Calakmul greater climate change demands adaptations beyond the scope of recent policy interventions. We consider how the border region includes biophysical processes as well as socio-political and cultural ones, and we argue that policy interventions are required at global, national, and local scales to address structural inequalities and co-create local solutions to development, migration, and climate change challenges. 
Downloads
Download data is not yet available.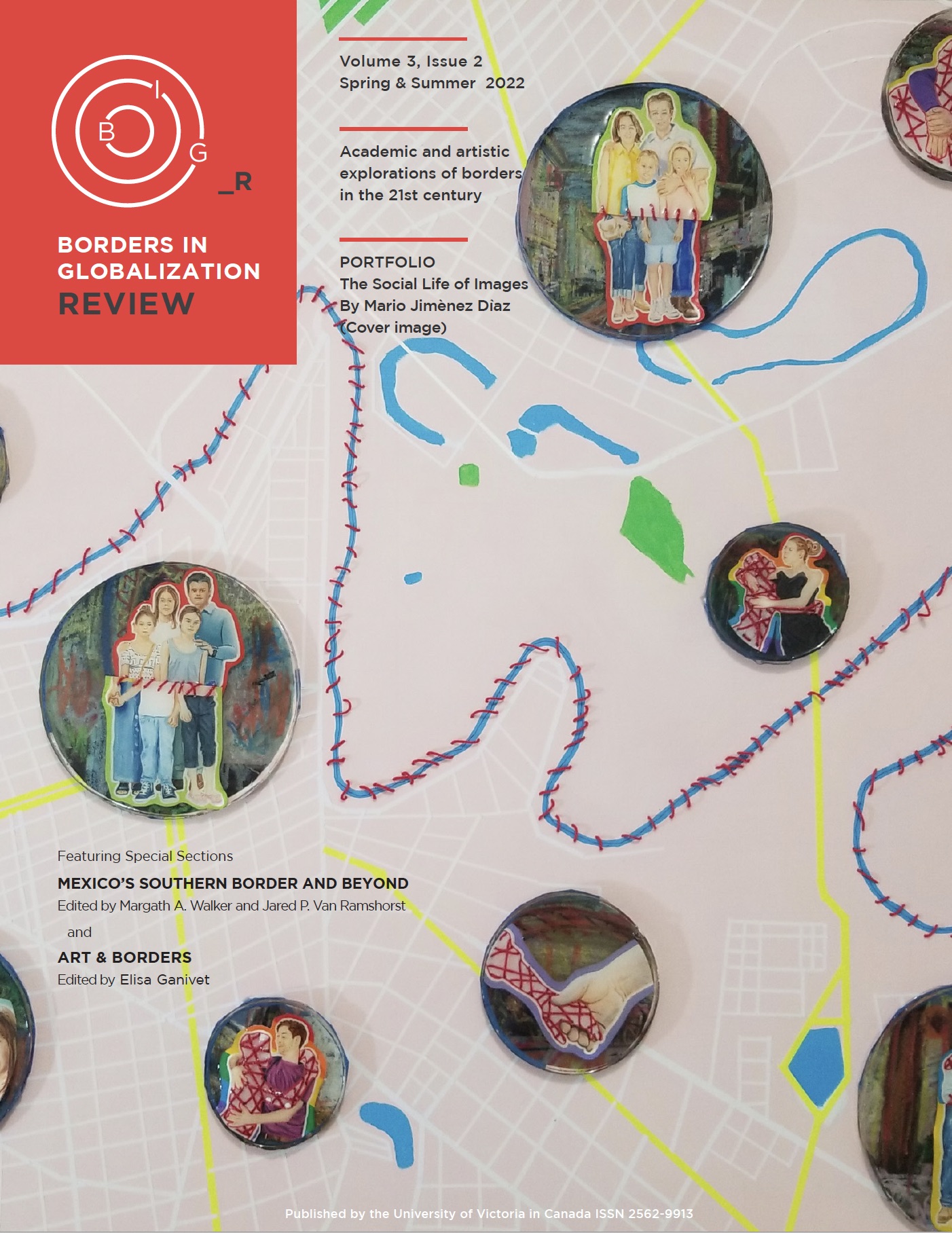 How to Cite
Schmook, B., Mardero, S., Calmé, S., White, R., Radel, C., Carte, L., Cassanova, G., Castelar Cayetano, J. D., & Joo Chang, J. C. (2022). The Border-Development-Climate Change Nexus: Precarious Campesinos at the Selva Maya Mexico–Guatemala Border. Borders in Globalization Review, 3(2), 38-52. https://doi.org/10.18357/bigr32202220358
Copyright (c) 2022 Birgit Schmook, Sofía Mardero, Sophie Calmé, Rehema White, Claudia Radel, Lindsey Carte, Grecia Cassanova, Jorge David Castelar Cayetano, Juan Carlos Joo Chang
This work is licensed under a Creative Commons Attribution-NonCommercial-ShareAlike 4.0 International License.
Authors retain copyright and grant the journal right of first publication with the work simultaneously licensed under a Creative Commons Attribution-NonCommercial 4.0 International License (CC BY-NC 4.0) that allows others to copy and redistribute the material, to remix, transform and bulid upon the work with an acknowledgement of the work's authorship and initial publication in this journal.
Authors are able to enter into separate, additional contractual arrangements for the non-exclusive distribution of the journal's published version of the work (e.g., post it to an institutional repository or publish it in a book), with an acknowledgement of its initial publication in this journal.
Authors are permitted and encouraged to post their work online (e.g., in institutional repositories or on their website) prior to and during the submission process, as it can lead to productive exchanges, as well as earlier and greater citation of published work (See The Effect of Open Access).
Artists may discuss alternative copyrights with the editors.