Constructing Local Belonging through Art and Activism in Context of Anti-Migration Politics, Stigmatisation and Gentrification: What Migration Studies can Learn from Belleville and Maddalena
Monika Salzbrunn

University of Lausanne
Abstract
Despite a decade of self-criticism, research perspectives on migration studies remain too often centred on national belonging (Glick Schiller & Çağlar 2011). Based on two empirical examples, self-organised fashion and music shows in Paris and Genoa, this article shows how "event lenses" can constructively replace "ethnic lenses" in the analysis of artivistic practices that aim at changing political situations and living conditions. Wearing "event lenses" also helps us to question supposed homogeneities and to investigate common civic or political practices and interests by emphasizing multiple belonging processes in various social situations (Yuval-Davis et al. 2006, 7). I show how the research perspective of migration studies can be guided by the complexity of migrants' multiple belongings and by situational analysis. The article presents results from my ERC project "ARTIVISM. Art and activism. Creativity and Performance as Subversive Forms of Political Expression in Super-Diverse Cities", guided by an event-centred approach and multi-sensory audio-visual ethnography. The Parisian district of Belleville and the Maddalena district of Genoa suffer both from negative stigmatisations related to informal economical practices. I show how the super-diverse populations in these marginalised but gentrifying spaces creatively reverse xenophobic stigmata, by valorising their biographies and multiple belongings through fashion shows. 
Downloads
Download data is not yet available.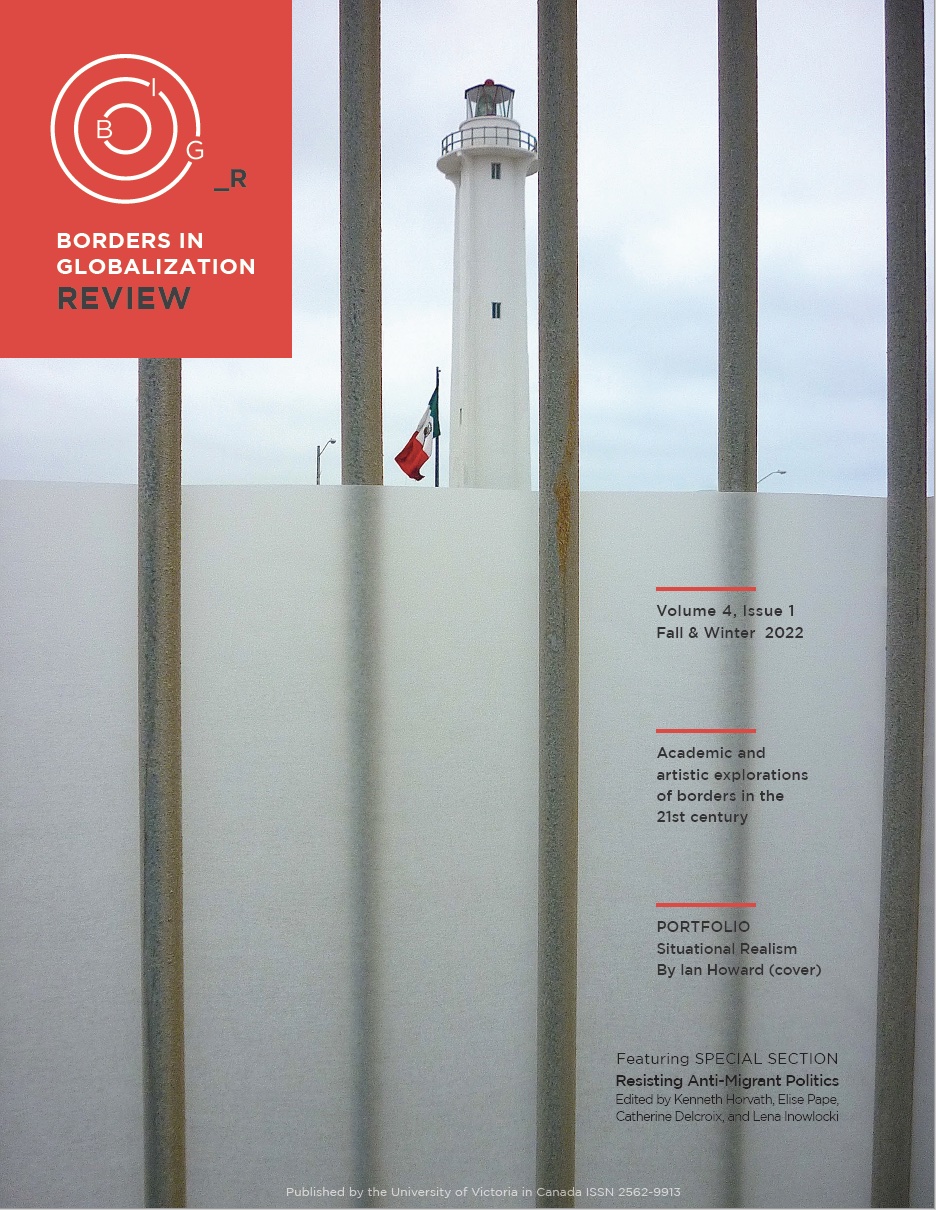 How to Cite
Salzbrunn, Monika. 2022. "Constructing Local Belonging through Art and Activism in Context of Anti-Migration Politics, Stigmatisation and Gentrification: What Migration Studies Can Learn from Belleville and Maddalena". Borders in Globalization Review 4 (1). Victoria, British Columbia, Canada, 41-52. https://doi.org/10.18357/bigr41202220562.
Copyright (c) 2022 Monika Salzbrunn
This work is licensed under a Creative Commons Attribution-NonCommercial-ShareAlike 4.0 International License.
Authors retain copyright and grant the journal right of first publication with the work simultaneously licensed under a Creative Commons Attribution-NonCommercial 4.0 International License (CC BY-NC 4.0) that allows others to copy and redistribute the material, to remix, transform and bulid upon the work with an acknowledgement of the work's authorship and initial publication in this journal.
Authors are able to enter into separate, additional contractual arrangements for the non-exclusive distribution of the journal's published version of the work (e.g., post it to an institutional repository or publish it in a book), with an acknowledgement of its initial publication in this journal.
Authors are permitted and encouraged to post their work online (e.g., in institutional repositories or on their website) prior to and during the submission process, as it can lead to productive exchanges, as well as earlier and greater citation of published work (See The Effect of Open Access).
Artists may discuss alternative copyrights with the editors.