Switching Cars with the Militsiya and Other Ways the Finnish–Russian Borderland is 'Lived' by People in Their Everyday Lives
Virpi Kaisto

University of Eastern Finland

Olga Brednikova

Centre for Independent Social Research

Kristiina Korjonen-Kuusipuro

Juvenia Youth Research Development Centre, South-Eastern Finland University of Applied Sciences
Abstract
Borderlands differ from more central areas of states as they are affected by different border effects, such as cross-border flows and the intermingling of societies and cultures. Yet, the ways people experience and practice borderlands by attaching meanings to the material and social space have received relatively little attention. The present study focuses on the Finnish–Russian borderland as 'lived' by people in their everyday lives. It is based on ethnographic fieldwork conducted in the Finnish border cities of Imatra and Lappeenranta and the Russian border cities of Svetogorsk and Vyborg in 2017 and 2018. The main finding is that the participants' cross-border practices are intertwined with personal and socially shared meanings that they associate with the borderland and places within it. These meanings also play an important role in the ways the participants form relationships with the borderland. The paper argues that research on borderlands needs to pay more attention to the ever-evolving relationship between people and space for deepening the understanding of the specificity of borderlands as living environments.
Downloads
Download data is not yet available.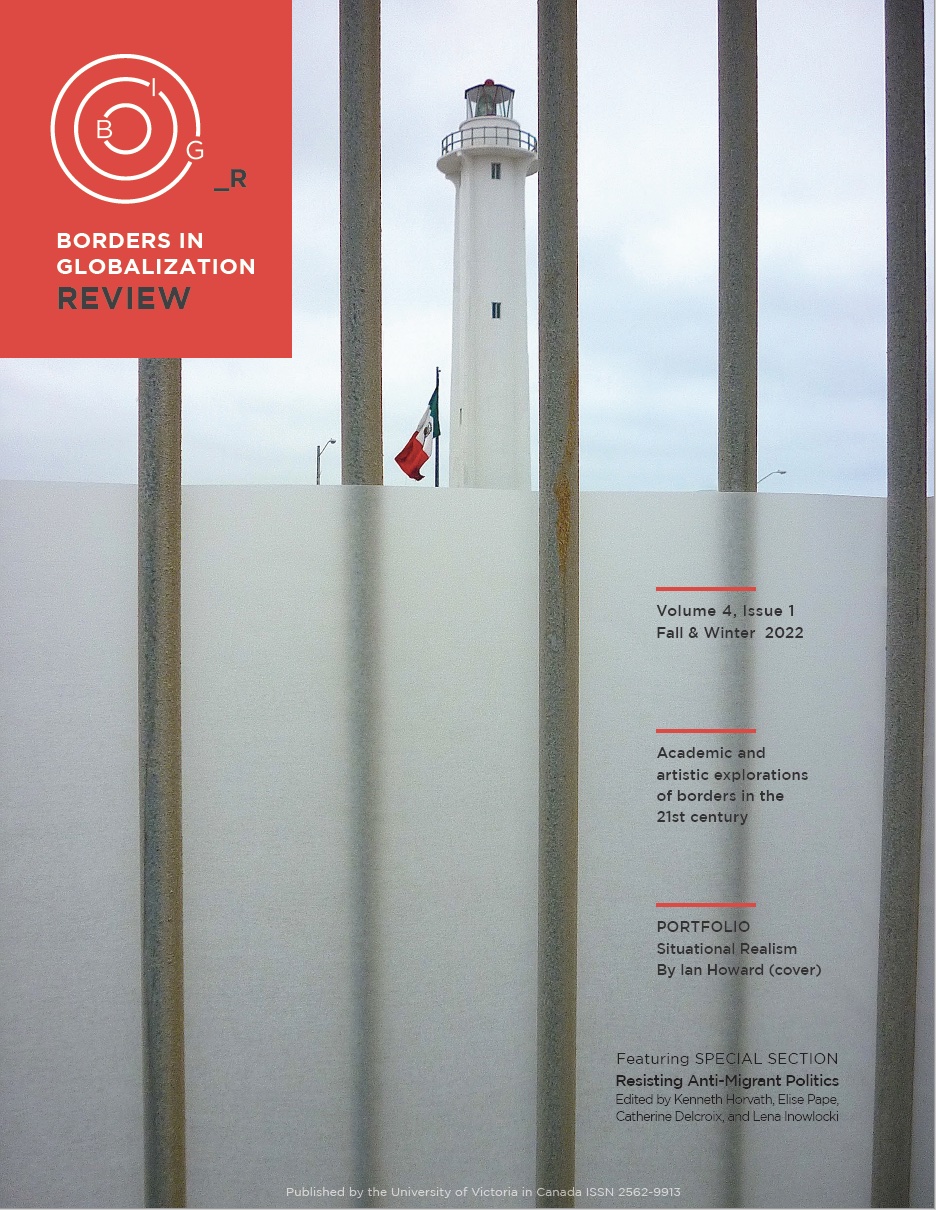 How to Cite
Kaisto, Virpi, Olga Brednikova, and Kristiina Korjonen-Kuusipuro. 2022. "Switching Cars With the Militsiya and Other Ways the Finnish–Russian Borderland Is 'Lived' by People in Their Everyday Lives ". Borders in Globalization Review 4 (1). Victoria, British Columbia, Canada, 8-20. https://doi.org/10.18357/bigr41202220598.
Copyright (c) 2022 Virpi Kaisto, Olga Brednikova, Kristiina Korjonen-Kuusipuro
This work is licensed under a Creative Commons Attribution-NonCommercial-ShareAlike 4.0 International License.
Authors retain copyright and grant the journal right of first publication with the work simultaneously licensed under a Creative Commons Attribution-NonCommercial 4.0 International License (CC BY-NC 4.0) that allows others to copy and redistribute the material, to remix, transform and bulid upon the work with an acknowledgement of the work's authorship and initial publication in this journal.
Authors are able to enter into separate, additional contractual arrangements for the non-exclusive distribution of the journal's published version of the work (e.g., post it to an institutional repository or publish it in a book), with an acknowledgement of its initial publication in this journal.
Authors are permitted and encouraged to post their work online (e.g., in institutional repositories or on their website) prior to and during the submission process, as it can lead to productive exchanges, as well as earlier and greater citation of published work (See The Effect of Open Access).
Artists may discuss alternative copyrights with the editors.