A Gesture of Salt: Three Social Poems
Abstract
The three poems presented here meditate in verse on the concept of migration as a consequence of war, poverty, neo-colonialism, and exploitation of the environment. "In Absence", with its simple and composed structure, is a silent cry of hope. The poet describes one night on a refugees boat in the Mediterranean: one of many journeys of hope tainted by the shadows of future hardships and the sorrow of the memories left behind. Under it all there is the sea, the big mother and never sated monster. 
Today our cities are a melting pot of races and languages. Among the tangles of the urban landscape, the most fragile are often lost, forgotten. "Beyond the Gaze" offers a symbolic portrait of a neglected humanity, the migrants living too often at the borders of society with their crosses of wars and horrors on their shoulders (there is a hint to Jesus and mother Mary, for those who understand). Over this forgotten humanity, our distracted eyes barely notice anymore the TV news recounting other existential tragedies.
From the first steps of mankind, people migrated, scattering around the world, mixing and differentiating themselves in different cultures and customs. "Transhumance" is a sort of laic prayer and a quiet reflection on migrations, crowds, loneliness, nature, and human landscape. The poems come from the Italian book Ossidiana, published by Volturnia Edizioni in 2018 (translations into English by the poet).
Downloads
Download data is not yet available.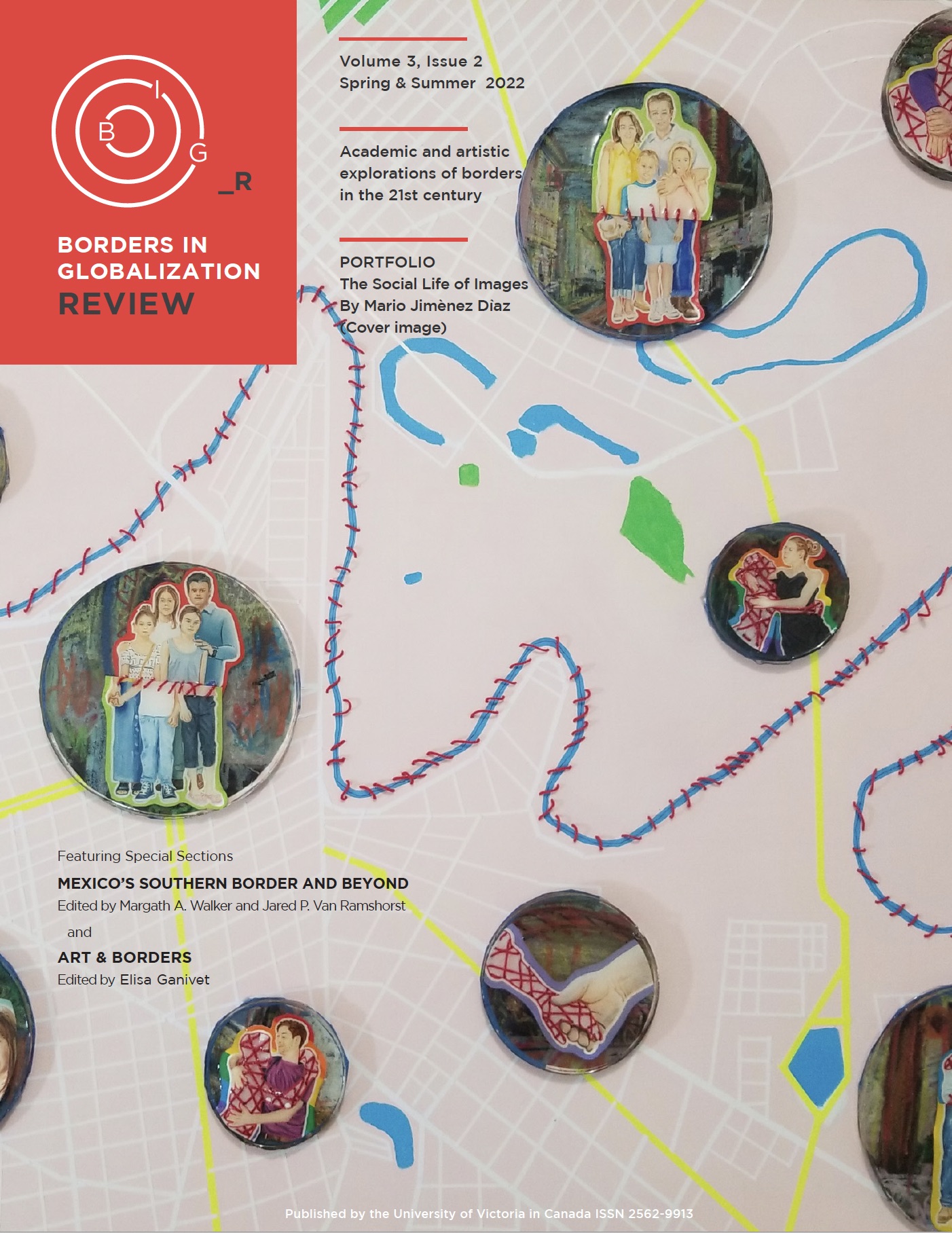 How to Cite
Trapazzo, Lucilla. 2022. "A Gesture of Salt: Three Social Poems". Borders in Globalization Review 3 (2). Victoria, British Columbia, Canada, 90-93. https://doi.org/10.18357/bigr32202220775.
Copyright (c) 2022 Lucilla Trapazzo
This work is licensed under a Creative Commons Attribution-NonCommercial-ShareAlike 4.0 International License.
Authors retain copyright and grant the journal right of first publication with the work simultaneously licensed under a Creative Commons Attribution-NonCommercial 4.0 International License (CC BY-NC 4.0) that allows others to copy and redistribute the material, to remix, transform and bulid upon the work with an acknowledgement of the work's authorship and initial publication in this journal.
Authors are able to enter into separate, additional contractual arrangements for the non-exclusive distribution of the journal's published version of the work (e.g., post it to an institutional repository or publish it in a book), with an acknowledgement of its initial publication in this journal.
Authors are permitted and encouraged to post their work online (e.g., in institutional repositories or on their website) prior to and during the submission process, as it can lead to productive exchanges, as well as earlier and greater citation of published work (See The Effect of Open Access).
Artists may discuss alternative copyrights with the editors.