Bunker Mentalities: The Shifting Imaginaries of Albania's Fortified Landscape
Frédéric Lasserre

Enkeleda Arapi

Mia Bennett
Abstract
Between 1967 and 1986, the Albanian government built an estimated 750,000 small and medium-sized military bunkers for defense purposes. These concrete constructions were spread across the country's territory, with many concentrated along borders and beaches, in cities, and near key industries, strategic points, and transportation infrastructure. Long symbols of the communist regime, after it collapsed in 1991, the bunkers lost their purpose. As a result, both the narratives surrounding bunkers and their actual uses experienced significant transformations. Originally designed to control borders and instill fear in the population, bunkers have since been abandoned, destroyed, and graffitied, as might be expected. More notably, local entrepreneurs have transformed some bunkers into hotels or restaurants, while the state and non-profit organizations have turned others into commemorative sites that respectively glorify or expose the communist regime's undertakings. Our ethnographic research into the discursive and material shifts to Albania's fortified landscape, based on several field trips, interviews and investigations carried out between 2007 and 2017, identifies four contemporary "bunker mentalities" in Albania: indifference, derision, commodification, and commemoration.
Downloads
Download data is not yet available.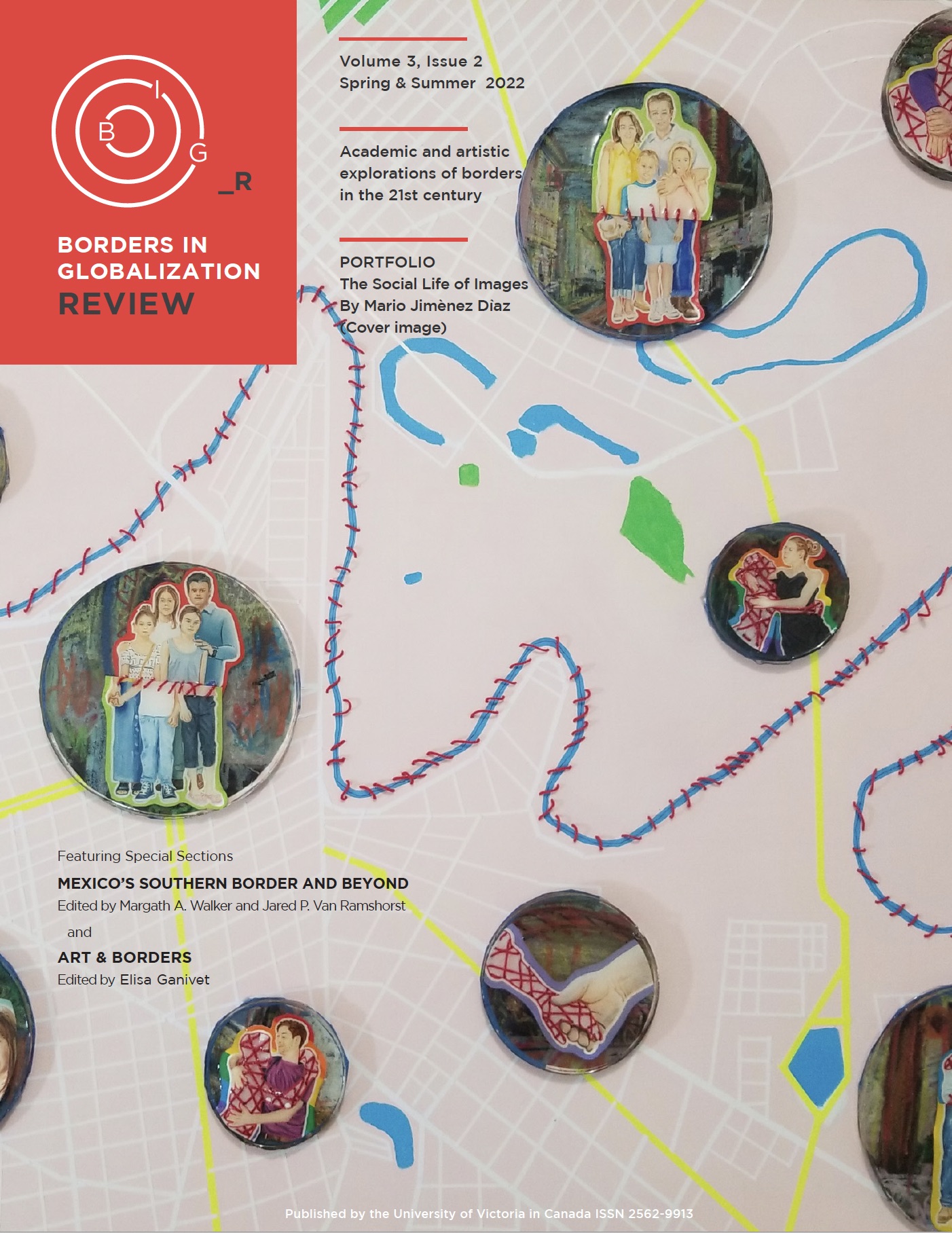 How to Cite
Lasserre, Frédéric, Enkeleda Arapi, and Mia Bennett. 2022. "Bunker Mentalities: The Shifting Imaginaries of Albania's Fortified Landscape". Borders in Globalization Review 3 (2). Victoria, British Columbia, Canada, 66-76. https://doi.org/10.18357/bigr32202220783.
Copyright (c) 2022 Frédéric Lasserre
This work is licensed under a Creative Commons Attribution-NonCommercial-ShareAlike 4.0 International License.
Authors retain copyright and grant the journal right of first publication with the work simultaneously licensed under a Creative Commons Attribution-NonCommercial 4.0 International License (CC BY-NC 4.0) that allows others to copy and redistribute the material, to remix, transform and bulid upon the work with an acknowledgement of the work's authorship and initial publication in this journal.
Authors are able to enter into separate, additional contractual arrangements for the non-exclusive distribution of the journal's published version of the work (e.g., post it to an institutional repository or publish it in a book), with an acknowledgement of its initial publication in this journal.
Authors are permitted and encouraged to post their work online (e.g., in institutional repositories or on their website) prior to and during the submission process, as it can lead to productive exchanges, as well as earlier and greater citation of published work (See The Effect of Open Access).
Artists may discuss alternative copyrights with the editors.