A Family Mobilization for Migration to Europe from Casamance, Senegal
Abdoulaye Ngom

Assane Seck University of Ziguinchor
Abstract
The ratio between basic salaries in Western Europe and in sub-Saharan Africa is at least of a factor ten. Many young Africans therefore dream of emigrating to Europe. However, the air route remains a privilege reserved to members of elite families: to take a plane one needs a visa for most European countries. Without a visa, the only two possibilities are the sea route via coastal navigation along the African coast and the land route through the Sahara. These are the very dangerous and uncertain routes that tens of thousands of migrants nevertheless take each year. This article examines the case of a family of small-scale subsistence farmers in Casamance, the Southern region of Senegal. It shows how this family of 42 persons decided to send one of its members to try to enter France illegally. How they chose the migrant, how they collected the necessary funds, and what happened during the two attempts. This detailed case study gives an idea of the steps taken each year by tens of thousands of other families in Africa who try sending one of their sons across European borders. 
Downloads
Download data is not yet available.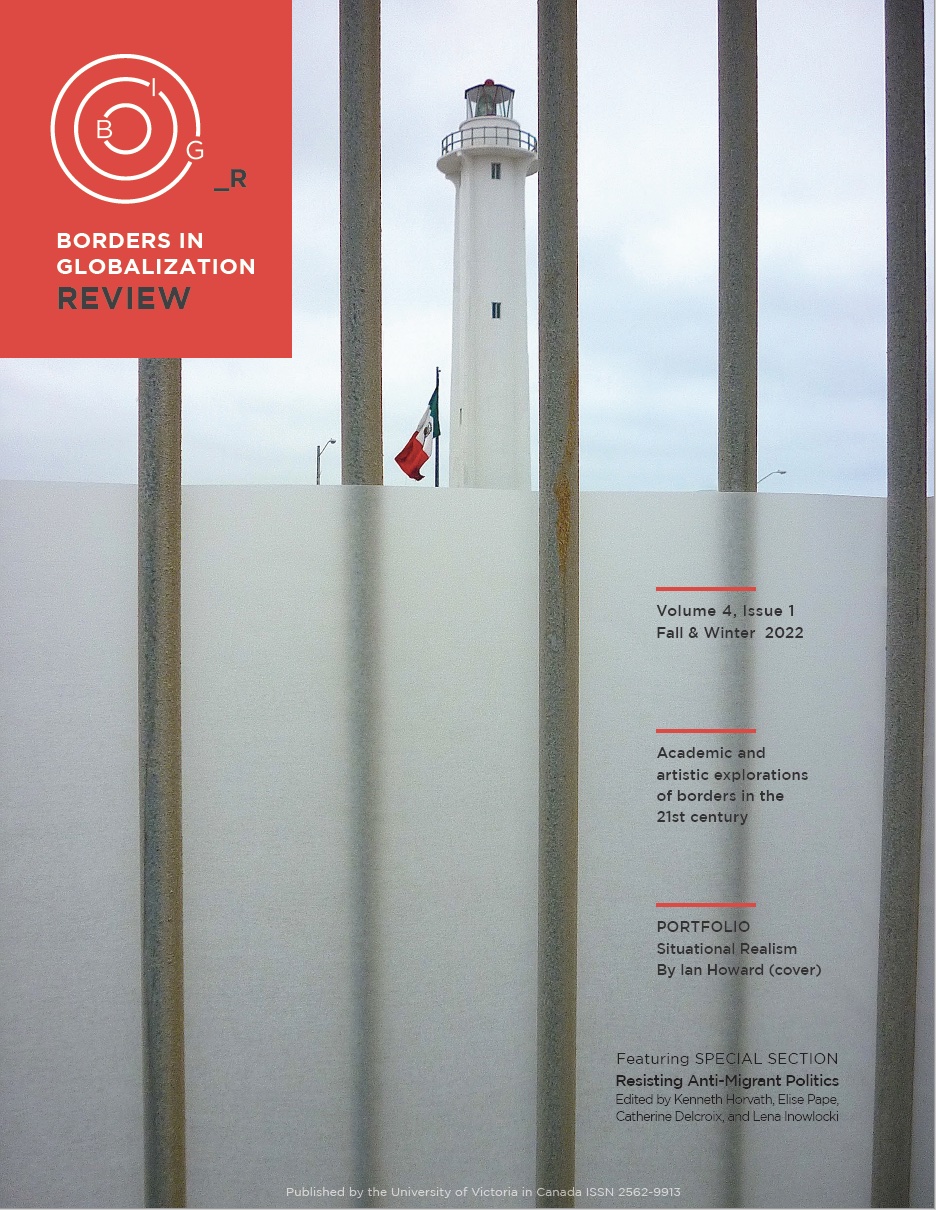 How to Cite
Ngom, Abdoulaye. 2022. "A Family Mobilization for Migration to Europe from Casamance, Senegal". Borders in Globalization Review 4 (1). Victoria, British Columbia, Canada, 67-77. https://doi.org/10.18357/bigr41202220828.
Copyright (c) 2022 Abdoulaye Ngom
This work is licensed under a Creative Commons Attribution-NonCommercial-ShareAlike 4.0 International License.
Authors retain copyright and grant the journal right of first publication with the work simultaneously licensed under a Creative Commons Attribution-NonCommercial 4.0 International License (CC BY-NC 4.0) that allows others to copy and redistribute the material, to remix, transform and bulid upon the work with an acknowledgement of the work's authorship and initial publication in this journal.
Authors are able to enter into separate, additional contractual arrangements for the non-exclusive distribution of the journal's published version of the work (e.g., post it to an institutional repository or publish it in a book), with an acknowledgement of its initial publication in this journal.
Authors are permitted and encouraged to post their work online (e.g., in institutional repositories or on their website) prior to and during the submission process, as it can lead to productive exchanges, as well as earlier and greater citation of published work (See The Effect of Open Access).
Artists may discuss alternative copyrights with the editors.