The Perpetual Paradox: A Look into Liberian Colonization
Abstract
Liberia is often perceived as the oldest independent black republic on the continent. This paper will challenge this common perception by taking a deeper look into Liberia's unique colonial history. By analyzing the experiences of both the 'coloured' settlers and the pre- existing indigenous population, it is evident that the 'coloured' colonization of Liberia was not a nationalistic return to their home soil, but rather an opportunity for 'coloured' settlers to establish a system imitating the one by which they were previously oppressed. Although Liberia's settlers had similar skin tones to the indigenous population, Liberia has followed a path remarkably similar to the process of European colonization experienced by the rest of the continent.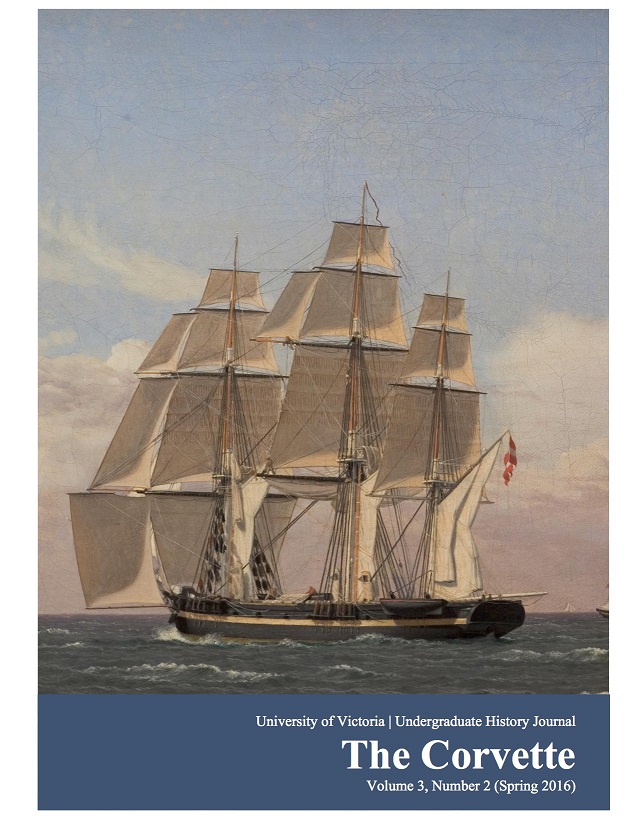 How to Cite
Spicer, Christina. 2016. "The Perpetual Paradox: A Look into Liberian Colonization". the Ascendant Historian 3 (2), 36-52. https://journals.uvic.ca/index.php/corvette/article/view/15632.
Authors contributing to the The Corvette agree to release their articles under the Creative Commons Attribution-Noncommercial 4.0 International license. This licence allows anyone to share their work (copy, distribute, transmit) and to adapt it for non-commercial purposes provided that appropriate attribution is given, and that in the event of reuse or distribution, the terms of this license are made clear.
Authors retain copyright of their work and grant the journal right of first publication.
Authors are able to enter into separate, additional contractual arrangements for the non-exclusive distribution of the journal's published version of the work (e.g., post it to an institutional repository or publish it in a book), with an acknowledgement of its initial publication in this journal.