The Federal Franchise and First Nations
Abstract
The extension of the federal franchise to Canada's registered aboriginal population in 1960 was the culmination of several years of controversial debate and a century of animosity between First Nations and the administration that controlled them. Enfranchisement of First Nations was a complex issue tied to a convoluted federal definition of aboriginal status. Complications arose with attempts to hammer out 'one-size-fits-all' legislation at a time when race relations were coming under intense international scrutiny. This paper explores the nature of the debate surrounding the passage of Bill C-3 by the Diefenbaker government, and attempts to clarify the attitudes and concerns that informed the discourse surrounding aboriginal rights, Charter rights, and the notion of citizenship between 1960 and 1990.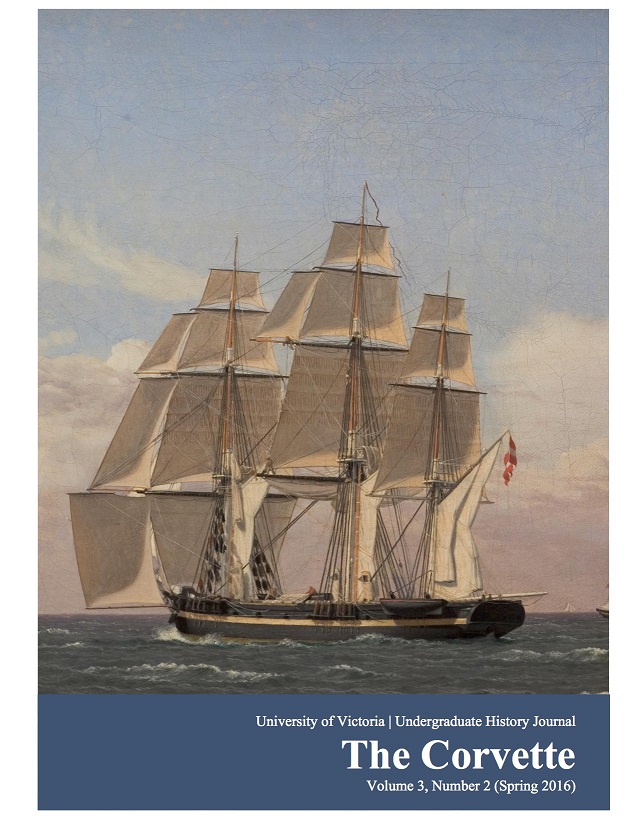 How to Cite
Hogan, Alison. 2016. "The Federal Franchise and First Nations". the Ascendant Historian 3 (2), 93-111. https://journals.uvic.ca/index.php/corvette/article/view/15636.
Authors contributing to the The Corvette agree to release their articles under the Creative Commons Attribution-Noncommercial 4.0 International license. This licence allows anyone to share their work (copy, distribute, transmit) and to adapt it for non-commercial purposes provided that appropriate attribution is given, and that in the event of reuse or distribution, the terms of this license are made clear.
Authors retain copyright of their work and grant the journal right of first publication.
Authors are able to enter into separate, additional contractual arrangements for the non-exclusive distribution of the journal's published version of the work (e.g., post it to an institutional repository or publish it in a book), with an acknowledgement of its initial publication in this journal.