The "Conversion" of Benny Morris: Morality in the History of 1948 and the Creation of the Palestinian-Refugee Crisis
Abstract
The history surrounding the 1948 War and the creation of the Palestinianrefugee crisis continues to be contentious, political, and filled with questions of morality. This is especially true for Benny Morris's historical work. As an Israeli historian, Morris has made significant contributions to the historiography of 1948, with most of his work focusing on the role that Jewish forces played in the expulsion of Palestinian Arabs in 1948 (something that the Israeli government had denied vehemently). Although celebrated for his historical work, following the collapse of the Palestinian-Israeli peace process in the early 2000s Morris publically announced his support for the expulsion of Palestinians in 1948 and argued that Jewish forces should have expelled every single Palestinian Arab. This paper discusses how a dual commitment to honest historical study and Zionism allowed Morris to announce his support for the atrocities that his own research had uncovered.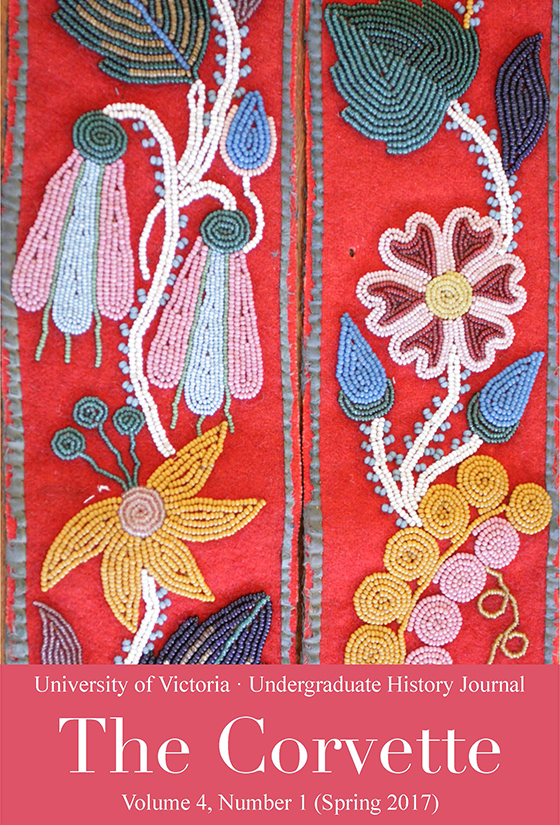 How to Cite
Gray, Josie. 2017. "The 'Conversion' of Benny Morris: Morality in the History of 1948 and the Creation of the Palestinian-Refugee Crisis". the Ascendant Historian 4 (1), 14-27. https://journals.uvic.ca/index.php/corvette/article/view/17062.
Authors contributing to the The Corvette agree to release their articles under the Creative Commons Attribution-Noncommercial 4.0 International license. This licence allows anyone to share their work (copy, distribute, transmit) and to adapt it for non-commercial purposes provided that appropriate attribution is given, and that in the event of reuse or distribution, the terms of this license are made clear.
Authors retain copyright of their work and grant the journal right of first publication.
Authors are able to enter into separate, additional contractual arrangements for the non-exclusive distribution of the journal's published version of the work (e.g., post it to an institutional repository or publish it in a book), with an acknowledgement of its initial publication in this journal.