On the Origin of Thuggee: Determining the Existence of Thugs in Pre-British India
Abstract
The thugs of India have captured Western imaginations since their crimes were discovered by British administrators in the early 19th century. Since that time, the thugs have been represented in various ways within Western historiography, ranging from the trope of 'thugs as a satanic cult' to the conception of 'thugs as the imagined constructions of British orientalist colonizers.' This paper challenges both representations by searching pre-British Indian primary sources for evidence of the existence of thugs before the arrival of the British in the late 18th century. Locating thugs in these primary sources illustrates that the thugs were neither an imagined construction of British imaginations nor a demon-worshiping cult dedicated to human sacrifice, but rather a group of highly fraternal, highly superstitious criminals dedicated to highway robbery and murder.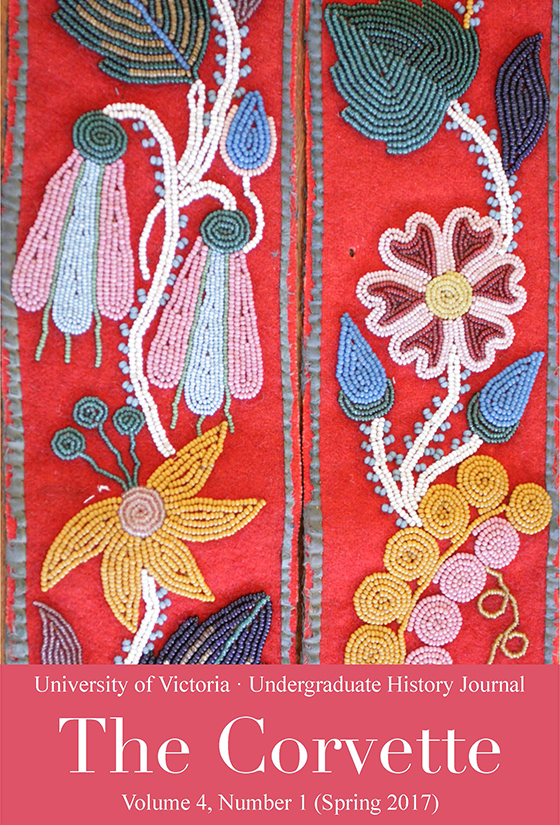 How to Cite
Reid, Darren. 2017. "On the Origin of Thuggee: Determining the Existence of Thugs in Pre-British India". the Ascendant Historian 4 (1), 75-84. https://journals.uvic.ca/index.php/corvette/article/view/17067.
Authors contributing to the The Corvette agree to release their articles under the Creative Commons Attribution-Noncommercial 4.0 International license. This licence allows anyone to share their work (copy, distribute, transmit) and to adapt it for non-commercial purposes provided that appropriate attribution is given, and that in the event of reuse or distribution, the terms of this license are made clear.
Authors retain copyright of their work and grant the journal right of first publication.
Authors are able to enter into separate, additional contractual arrangements for the non-exclusive distribution of the journal's published version of the work (e.g., post it to an institutional repository or publish it in a book), with an acknowledgement of its initial publication in this journal.