Saint George and the Dragon: Saintly and Othered Bodies
Abstract
During the late-medieval and early-modern period, increasing travel, trade, and contact with peoples of different cultures, religions, and ethnicities within Western European territories challenged Christian understandings of the human body. This paper investigates whether such contemplations and fears, as established in the legend of Saint George and the Dragon, were a reflection of such changing conceptions about bodies. I consider how the legend reinforced the superiority of Caucasian, Christian, masculine ideals and argue that representations of the dragon reflected expanding cultural notions which marginalized anyone outside of those norms as Other.
Within Europe, the Christian church was the ultimate authority for determining and controlling who was considered 'normal.' Religious, physical, and cultural judgments became dangerous for those with nonnormative bodies. Feminization through the punishment of the beast is a natural extension of systems which served to control active female sexuality as a threat to purity and holiness. Ethnic differences were also used to establish political and religious control based on stereotyped physical characteristics and skin colour. I argue that the dragon symbolized those human bodies deemed unqualified for belonging to 'humankind' and, therefore, ineligible for religious conversion and salvation.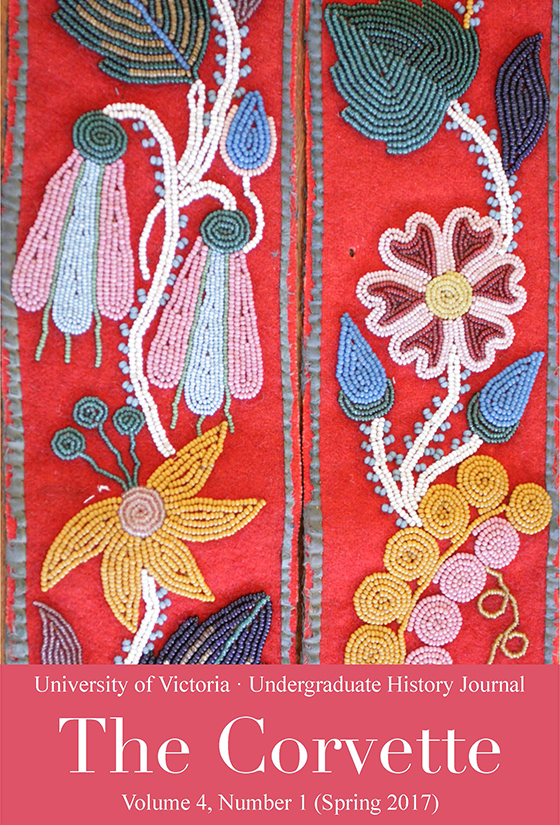 How to Cite
Fraser, Lorinda. 2017. "Saint George and the Dragon: Saintly and Othered Bodies". the Ascendant Historian 4 (1), 85-97. https://journals.uvic.ca/index.php/corvette/article/view/17068.
Authors contributing to the The Corvette agree to release their articles under the Creative Commons Attribution-Noncommercial 4.0 International license. This licence allows anyone to share their work (copy, distribute, transmit) and to adapt it for non-commercial purposes provided that appropriate attribution is given, and that in the event of reuse or distribution, the terms of this license are made clear.
Authors retain copyright of their work and grant the journal right of first publication.
Authors are able to enter into separate, additional contractual arrangements for the non-exclusive distribution of the journal's published version of the work (e.g., post it to an institutional repository or publish it in a book), with an acknowledgement of its initial publication in this journal.