Psychotic, Depressed, or Just a Whale? Studying Whales in Captivity at Marineland of the Pacific, 1954-1967
Abstract
Prior to the onset of large-scale marine mammal captivity, marine biologists had limited access to whales and dolphins. Scientists were often forced to rely on inadequate wild observations, study whale carcasses from whaling ships or factories, collect stranded specimens, or hunt their own cetaceans. Opening in 1954, Marineland of the Pacific revolutionized the marine mammalogy field by providing unprecedented opportunities for scientists to closely observe, study, and interact with live whales. In addition to studying breathing rates, swimming speeds, and diving capabilities, scientists at Marineland also made advances in understanding echolocation, social structure, and emotional intelligence in cetaceans. Through examinations of scientific studies, changes in animal husbandry practices, and popular publications, this paper will show that the connection between oceanariums and marine research has been largely overlooked in historical scholarship, but is critical to understanding the transformation in the mid-twentieth century relationship between humans and cetaceans.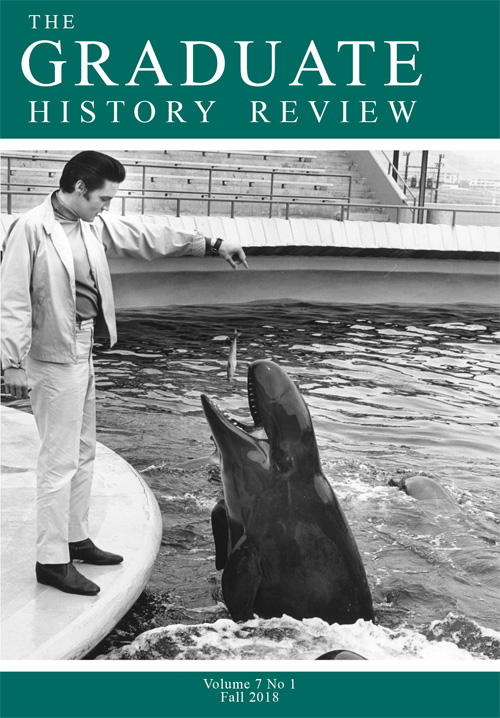 Authors who publish with this journal agree to the following terms:
a. Authors retain copyright and grant the journal right of first publication with the work simultaneously licensed under a Creative Commons Attribution 4.0 International that allows others to share the work with an acknowledgement of the work's authorship and initial publication in this journal.
b. Authors are able to enter into separate, additional contractual arrangements for the non-exclusive distribution of the journal's published version of the work (e.g., post it to an institutional repository or publish it in a book), with an acknowledgement of its initial publication in this journal.
c. Authors are permitted and encouraged to post their work online (e.g., in institutional repositories or on their website) prior to and during the submission process, as it can lead to productive exchanges, as well as earlier and greater citation of published work (See The Effect of Open Access).