"We Have Had It Up To Here": Murder, Civil Disorder, and Civil Rights in a Western Pennsylvanian Industrial Town
Abstract
In 1970, citizens of New Castle, Pennsylvania, a small industrial city an hour north of Pittsburgh, responded to the racially motivated murder of a local black Vietnam veteran in that city with vandalism and firebombing that forced the mayor to place the city under a state of emergency for three days. The series of exchanges preceding and following the murder reveals much about that city's history, and how several factors influenced local forms of racism. Existing scholarship has focused on racialized policies and practices in two spatial extremes—large cities and small towns—while this analysis seeks to illustrate how local, regional, and national influences shaped what forms of race-based policies and practices in spaces between these municipal extremes were permissible. Beyond place and space, this research contributes to a different set of conversations about the ways identity and community are articulated through the actions of individuals and groups, and how those understandings are shaped by individual and collective memory. This analysis begins by situating Ronald Mitchell's murder within the historical context of 1970s New Castle, broadens to place New Castle amid much larger and smaller municipalities across the country, and briefly contours some historical forces that shaped racism in policy or practice across time. I illustrate how federal, state, and local authorities responded to crises comparable to that which occurred in response to Mitchell's murder in the 1960s, and highlight how the underlying causes identified during investigations by those bodies manifested throughout the city's history and at the scene of Mitchell's murder. I also explore the role of institutions and memory in shaping knowledge and use of the past and build upon earlier scholarship in asserting their centrality to equitable futures.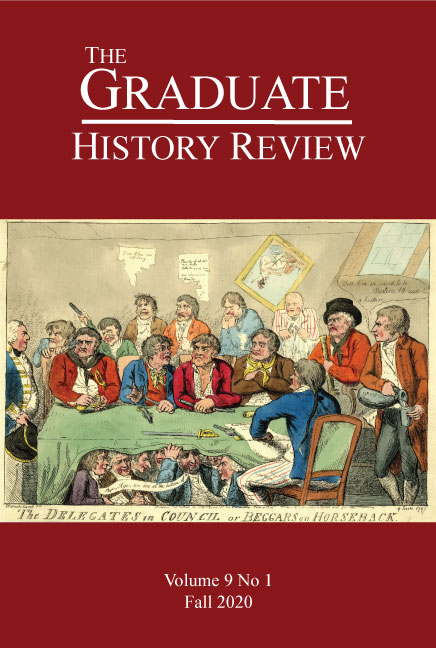 Copyright (c) 2020 Alex Tabor
This work is licensed under a Creative Commons Attribution 4.0 International License.
Authors who publish with this journal agree to the following terms:
a. Authors retain copyright and grant the journal right of first publication with the work simultaneously licensed under a Creative Commons Attribution 4.0 International that allows others to share the work with an acknowledgement of the work's authorship and initial publication in this journal.
b. Authors are able to enter into separate, additional contractual arrangements for the non-exclusive distribution of the journal's published version of the work (e.g., post it to an institutional repository or publish it in a book), with an acknowledgement of its initial publication in this journal.
c. Authors are permitted and encouraged to post their work online (e.g., in institutional repositories or on their website) prior to and during the submission process, as it can lead to productive exchanges, as well as earlier and greater citation of published work (See The Effect of Open Access).