"Whither Shall We Send Our Son?": A Prosopographical Analysis of Remittance Men in New Zealand
Helen Vivien Louise Leggatt

University of Canterbury
Abstract
This article represents a unique exploration of the creation and lived experiences of British gentlemen exiled by family to the colonies during the nineteenth century. Known as remittance men, they constituted a small but consistent migrant type to British settler societies, and later became the subject of popular mythology. Remittance men have remained but footnotes in New Zealand historiography and their presence deserves greater scrutiny. Through prosopographical analysis, my research expands current knowledge of the historical contexts in which their identities were forged, and adds their stories to New Zealand's current historiography of the nation's early immigrants.
Note: As part of this research, the author created an Excel spreadsheet containing data analysed for this article. Individuals interested in viewing the data should write and request a copy from the author via helen.leggatt@pg.canterbury.ac.nz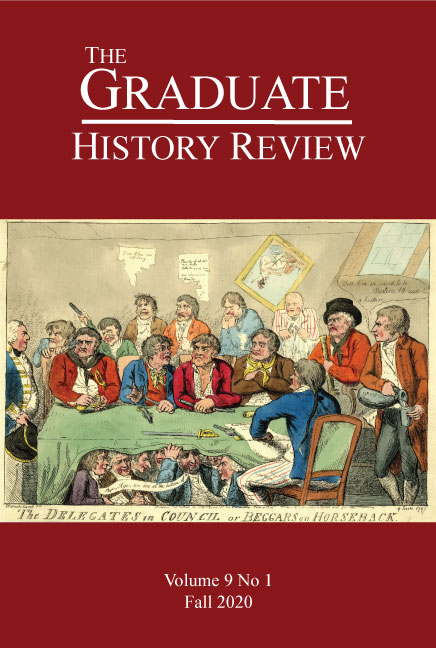 Copyright (c) 2020 Helen Vivien Louise Leggatt
This work is licensed under a Creative Commons Attribution 4.0 International License.
Authors who publish with this journal agree to the following terms:
a. Authors retain copyright and grant the journal right of first publication with the work simultaneously licensed under a Creative Commons Attribution 4.0 International that allows others to share the work with an acknowledgement of the work's authorship and initial publication in this journal.
b. Authors are able to enter into separate, additional contractual arrangements for the non-exclusive distribution of the journal's published version of the work (e.g., post it to an institutional repository or publish it in a book), with an acknowledgement of its initial publication in this journal.
c. Authors are permitted and encouraged to post their work online (e.g., in institutional repositories or on their website) prior to and during the submission process, as it can lead to productive exchanges, as well as earlier and greater citation of published work (See The Effect of Open Access).