Politicizing Pronatalism: Exploring the Nazi Ideology of Women through the Lens of Visual Propaganda, 1933-1939.
Katherine M. Rossy

Concordia University
Keywords:
pronatalism, visual propaganda, German women, Nazi Germany, The Third Reich
Abstract
Recent works on women's roles in the Third Reich fuel a maelstrom of contentious arguments that challenge notions of women's accountability, victimization, and active and passive agency during one of modern history's most destructive regimes. Although the discourse about German women and National Socialism generally acknowledges that Hitler's regime was intensely misogynist, the discourse fails to consider one of the most potent and effective driving forces behind the institutionalization of misogyny in the Third Reich, that of visual propaganda as a vehicle of feminine marginalization. In this regard, this research paper will argue that misogyny was harboured through a process of politicization whereby the National Socialist ideology of women was reflected and promoted by three themes that dominated visual propaganda. First, it will analyze the ways in which Lebensraum and pronatalism were depicted in conjunction with one another. Then, it will explore the tripartite relationship between motherhood, militarism, and agrarianism through visual media. Finally, it will expose the ways in which the genderization of social spheres was propagated through the official girls' and boys' Hitler Youth publications. Thorough visual analysis will demonstrate that these three themes formed the basis for the politicization of pronatalism, which, in turn, acted as the driving force behind the institutionalization of misogyny between the years of 1933 and 1939.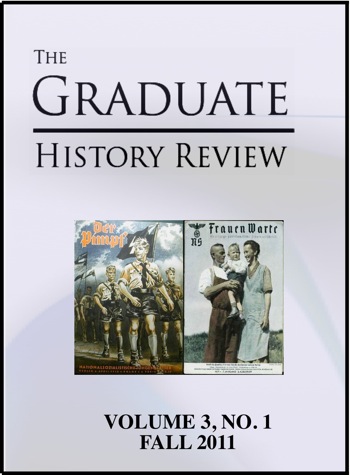 Authors who publish with this journal agree to the following terms:
a. Authors retain copyright and grant the journal right of first publication with the work simultaneously licensed under a Creative Commons Attribution 4.0 International that allows others to share the work with an acknowledgement of the work's authorship and initial publication in this journal.
b. Authors are able to enter into separate, additional contractual arrangements for the non-exclusive distribution of the journal's published version of the work (e.g., post it to an institutional repository or publish it in a book), with an acknowledgement of its initial publication in this journal.
c. Authors are permitted and encouraged to post their work online (e.g., in institutional repositories or on their website) prior to and during the submission process, as it can lead to productive exchanges, as well as earlier and greater citation of published work (See The Effect of Open Access).