Lingering Discourses: Jean Jacque Rousseau's 18th-Century Images of Mothers, Fathers, and Children
Margaret MacDonald

Simon Fraser University

Magdalena Rudkowski

Simon Fraser University

Janine Hostettler Schärer

Simon Fraser University
Abstract
Using a critical discourse approach (Fairclough, 2003; Foucault, 1972; Luke, 1997, 2002; Rabinow, 1984; van Dijk, 1993; van Leeuwen, 2008) this paper examines the text and embedded
meaning conveyed in Jean Jacque Rousseau's novella Émile. This treatise written in the 18th century includes Rousseau's conceptualization of best practices and a set of educational
guidelines detailing habits to avoid and the necessary combination of
"natural" and "progressive" approaches recommended to raise children as moral citizens. In our analysis we discuss the ways Rousseau uses binary descriptions of girls-boys, mothers-fathers, and learners-tutors separately and in opposition. We go on to situate his novella as an early example of expert advice on parenting, where Rousseau positions himself as an educational expert by simultaneously defining the maternal role in early education and
the role of education in society. We contend that Rousseau's works are founded on particular beliefs about the source of knowledge and construction of meaning that continues to constrain the formation of authentic partnerships among and between parents and early childhood educators. We argue that this discourse—and, importantly, the values, beliefs, and attitudes it conveys—lingers in Canadian early childhood education learning communities and that the vestiges of these early ideas truncate and unnaturally shape our ideas of parenting, teaching, and learning by socially positioning families and teachers in ways that make it difficult to engage in co-construction
of curriculum. We suggest that by better understanding and deconstructing this discourse we can move our thinking forward and authentically engage in coinquiry.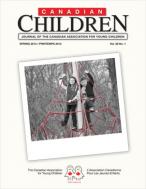 Copyright (c) 2013 Margaret MacDonald, Magdalena Rudkowski, Janine Hostettler Schärer
This work is licensed under a Creative Commons Attribution-NonCommercial 4.0 International License.
Authors contributing to the Journal of Childhood Studies agree to release their articles under the Creative Commons Attribution-Noncommercial 4.0 International license. This licence allows anyone to share their work (copy, distribute, transmit) and to adapt it for non-commercial purposes provided that appropriate attribution is given, and that in the event of reuse or distribution, the terms of this license are made clear.
Authors retain copyright of their work and grant the journal right of first publication.
Authors are able to enter into separate, additional contractual arrangements for the non-exclusive distribution of the journal's published version of the work (e.g., post it to an institutional repository or publish it in a book), with an acknowledgement of its initial publication in this journal.