Call for Papers -Re-thinking the Ludic: Imagining Play as Otherwise
Journal of Childhood Studies
Abstract
Guest Editors Kathryn Ricketts and Patrick Lewis, University of Regina, Education
     Johan Huizinga (1944) reminds us that, "Play is older than culture, for culture, however inadequately defined, always presupposes human society, and animals have not waited for man to teach them their playing" (1950, p. 1). In his work Homo Ludens [Man the player or Playing man] he argued that play is a fundamental human function that permeates all cultures from the beginning. Indeed, he argues that "human civilization has added no essential feature to the general idea of play" (p. 1). Play is not a by-product or consequence of culture—rather play exists before culture. More recently, Brian Boyd (2009) in his work, On the Origins of Stories argues that those things we so easily associate with culture and its development, like the arts and stories actually emerge from/through play.
     Play is often said to be universal--children everywhere are said to engage in some form of play. Nackmanovitch (1990) states, "Play is the free spirit of exploration, doing and being for it's own pure joy" (p. 43). He goes on to call this state of play as the child-mind: "the most potent muse of all is our own inner child" (p. 44). However, even though play is said to be universal and widely recognizable, play is also very difficult to explicate. That is because play is not an object, an action or a place. Play is abstract, a dynamic and fluid process. Further complicating the idea of play are the plethora of meanings, so together the fluidity of play and the multiplicity of meanings make it impossible to adequately define play: almost any pursuit or act could be play simply by how we frame it (Johnson, Christie & Wardle, 2005, p. 11).
     The late Brian Sutton-Smith began his life long study of play with Huizinga's work and at the end of the 20th century pondered "maybe the function of play is quite different from the kinds of things we have been looking at, or perhaps we have been looking at the wrong kinds of function" (Sutton-Smith, 1995, p. 282). Later he would ask, in The ambiguity of play (2001), if a theory of play was even possible.  
     Carl Jung (1990) states that, "the creation of something new is not accomplished by the intellect but by the play instinct acting from inner necessity." (as cited in Nachmanovitch, p. 42). He furthers this by stating "The inner mind plays with the objects it loves." Part of this exploration of play is to investigate the interplay between the object, the story and the body. Sherry Turkle states, "We think with the objects we love; we love the objects we think with"(Turkle, 2007, p. 6). As we welcome perspectives from Performative Inquiry (Fels 1998), Performance Studies (Schechner,1977), and Thing Theorists (Turkle, 2007), we gain a broader perspective to the diverse approaches of play as a means for emancipatory processes in performance, therapy, education and philosophy.
     We are interested in methods that depart from text centricity and embrace transmediated (Siegel, 1995) understandings of self in relation to the world. This departure from the text, invites a playful imagining of stories to be constructed collectively, and calls attention to remembered histories while embracing current realities.
Submissions
     This special issue of Childhood Studies imagines contributors taking up the provocation of the title (or a variation) to explore the ludic form across not only the early childhood landscape but through the myriad human activities that intersect and weave through that landscape and beyond. The Editors will consider works in and through: performing arts, performance studies, the visual arts, the child's eyes, psychology, teacher education, educational research, teacher practice, play theory, and early learning and care. This list is by no means exhaustive, leaving open a playful approach to imagining play as otherwise.
     Please submit title and abstract by December 1st 2016. Reviews of abstracts will be completed by January1st, 2017 with authors notified of decisions shortly after that date. Authors of accepted abstracts will be invited to submit completed manuscripts by March 1st, 2017. Manuscripts should be a maximum of 6000 words. Please see the submission guidelines for specific details of preparing your manuscript. However, should your manuscript travel outside the usual format and content conventions we will endeavour to accommodate as best we can, given the parameters of JCS.
     If you have any questions about the special issue please contact Kathryn Ricketts (kathryn.ricketts@uregina.ca) and Patrick Lewis (patrick.lewis@uregina.ca)
References
Boyd, B. (2009). On the Origin of Stories: Evolution, Cognition and Fiction. Cambridge, MA: Harvard University Press.
Fels, L. (1998). In the wind clothes dance on a line performative inquiry: A (re)search methodology (Unpublished doctoral dissertation). University of British Columbia, Vancouver, British Columbia, Canada.
Huizinga, J. (1950). Homo ludens: A study of the play-element in culture. London: Roy Publishers.
Jacobi, J. (Ed.). (1973). C. G. Jung: Psychological reflections: A new anthology of his writings, 1905-1961 (J. Jacobi & R. F. C. Hull, Trans.). Princeton, NJ: Princeton University Press.
Schechner, R. (1977). Essays on performance theory 1970-1976. New York, NY: Drama Book Specialists.
Siegel, M. (1995). More than words: The power of transmediation for learning. Canadian Journal of Education, Toronto, 20(4) 455 -475.
Sutton-Smith, B. (2001). The ambiguity of play. Cambridge, MA: Harvard University Press.
Nachmanovitch, S. (1990). Free play, improvisation in life and art. New York, NY: Penguin Putnam Inc.
Turkle, S. (2007). Evocative objects: Things we think with. Cambridge, MA: Massachusetts Institute of Technology.
Downloads
Download data is not yet available.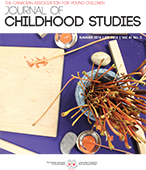 Copyright (c) 2016 Journal of Childhood Studies
This work is licensed under a Creative Commons Attribution-NonCommercial 4.0 International License.
Authors contributing to the Journal of Childhood Studies agree to release their articles under the Creative Commons Attribution-Noncommercial 4.0 International license. This licence allows anyone to share their work (copy, distribute, transmit) and to adapt it for non-commercial purposes provided that appropriate attribution is given, and that in the event of reuse or distribution, the terms of this license are made clear.
Authors retain copyright of their work and grant the journal right of first publication.
Authors are able to enter into separate, additional contractual arrangements for the non-exclusive distribution of the journal's published version of the work (e.g., post it to an institutional repository or publish it in a book), with an acknowledgement of its initial publication in this journal.