Children's Responses to Different Types of Teacher Involvement During Free Play
Juana Gaviria-Loaiza

Myae Han

Jennifer A Vu

Jason Hustedt
Keywords:
play, teachers' roles, teacher–child interactions, childcare
Abstract
This qualitative study uses secondary data from videos of 11 teachers in community childcare settings to explore the different roles that teachers use to facilitate play and the way children respond to teachers' behaviours within these roles. Results suggest that specific teacher behaviours within the roles they adopt elicit three types of children's responses: ignore/reject, evaluative, and acceptance behaviours. The co- player and play leader roles were often associated with children's acceptance behaviours and were considered more appropriate for teachers to support children's development.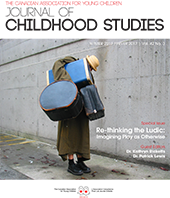 Section
Articles from Research
Copyright (c) 2017 Juana Gaviria-Loaiza, Myae Han, Jennifer A Vu, Jason Hustedt
This work is licensed under a Creative Commons Attribution-NonCommercial 4.0 International License.