Clown and Fool as Voice in Earth Activism
Keywords:
earth activism, more-than-human, clown, fool, relationship, dance
Abstract
How can the human relationship with the other-than-human be reenvisioned as neither destructive nor redemptive but as dynamic and playful? I explore ways that the archetype and practice of the fool and theatrical clowning could highlight this fundamental connection. This autoethnographic performative study draws on the work of such play theorists as Huizinga, Carse, Nachmanovitch, Winnicott, Bateson and Martin, Ackerman, and leadership visionary Wheatley. It is a dance between stories and literature that gives examples of play as a way to navigate and imagine a heart, mind, and body engagement with community.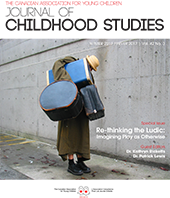 Section
Articles from Research
Copyright (c) 2017 Megan Hyslop
This work is licensed under a Creative Commons Attribution-NonCommercial 4.0 International License.