Horse Racing With Sheep Ankle Bones: The Play of Nomadic Children in Mongolia
Javzandulam Batsaikhan

Candace Kaye
Keywords:
culture, children, play, Mongolia, nomads
Abstract
The play activities of nomadic Mongolian children embrace an ancient traditional philosophy of life, connecting families to nature, respecting elders, and encouraging tenacity in daily life. This article discusses the context of this unique form of child play, its meaning, and its functional value. The major focus is on how these play activities have been communicated through centuries within themes of survival, lifestyle, and story. The article first reviews the cultural concept of play within discussions of adaptation, evolutionary process, and a culture-specific phenomenon, proceeds to examine how Mongolian traditional play encourages young children to be knowledgeable about nomadic values, and concludes with a discussion of how the context of the play of Mongolian nomadic children is situated within an understanding the concept of the ludic.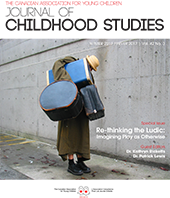 Section
Articles from Research
Copyright (c) 2017 Javzandulam Batsaikhan, Candace Kaye
This work is licensed under a Creative Commons Attribution-NonCommercial 4.0 International License.