In the Eye of the Tornado: Encounters with Clay—A Relational Materialist Orientation Toward Cultivating Curriculum
Keywords:
artistic processes, relational materialist approach, onto-epistemology, curriculum, assemblages
Abstract
This paper follows three student-educators' journey with clay. Embedded in the contextual space of the studio, the paper considers the complexities and processes involved in cultivating curriculum and thinking with the idea of art as a language. Inspired by the relational materialist approach, Erin, Roselyn, and Colleen enter into a dialogue with clay—embodying one another, entangling with each other, intra-actively doing unto one another, and reaffirming that knowing things is embedded deeply in relational connectivity with the world around us—onto-epistemology. The authors journey together with clay through spinning, twirling, tornadoes, storms, music, chaos, and destruction.
Downloads
Download data is not yet available.
References
Arndalds, Ó. (Creator). (2013, May 6). Only the winds [YouTube video]. https://youtu.be/9eWewdTkghM
Barad, K. (2007). Meeting the universe halfway: Quantum physics and the entanglement of matter and meaning. Duke University Press.
Brown, S., Siegel, L., & Blom, S. (2020). Entanglements of matter and meaning: The importance of the philosophy of Karen Barad for environmental education. Australian Journal of Environmental Education, 36(3), 219–233. https://doi.org/10.1017/aee.2019.29
dahsyatnya angin tornado. (2014). Excerpt from the film Into the Storm, uploaded by N. Chanel August 14, 2016 [YouTube video]. https://youtu.be/5yp0RvvJBxs
Geerts, E., & Carstens, D. (2019). Ethico-onto-epistemology. Philosophy Today, 63(4), 915–925. https://doi.org/10.5840/philtoday202019301
Ingold, T. (2013). Making: anthropology, archeology, art, and architecture. Routledge.
Kind, S. (2010). Art encounters: Movements in the visual arts and early childhood education. In V. Pacini-Ketchabaw (Ed.), Flows, rhythms, and intensities of early childhood education curriculum (pp. 95–109). Peter Lang.
Kind, S. (2017). Studio as a dance together. Handout from the studio workshop at the ECEBC conference, Richmond BC, May 2017.
Kind, S., & Argent, A. (2019). Fabricating: Fabric fluidities and studio encounters. In B. D. Hodgins (Ed.), Feminist research for 21st-century childhoods: Common worlds methods. Bloomsbury Academic.
Kind, S., Vintimilla, C. D., & Pacini-Ketchabaw, V. (2018). Material choreographies: Fabric as a living language of exchange. Innovations in Early Education, 25(3). The International Reggio Exchange.
Lenz Taguchi, H. (2011). Investigating learning, participation and becoming in early childhood practices with a relational materialist approach. Global Studies of Childhood, 1(1), 36–50.
Pacini-Ketchabaw, V., Kind, S., & Kocher, L. M. (2017). Encounters with materials in early childhood education. Routledge.
Poitras-Pratt, Y., & Gladue, K. (2022). Re-defining academic integrity: Embracing Indigenous truths. In S. Eaton & J. C. Hughes (Eds.), Academic integrity in Canada (pp. 103–123). Springer. https://doi.org/10.1007/978-3-030-83255-1_5
Taylor, A., Pacini-Ketchabaw, V., & Blaise, M. (2012). Children's relations with the more-than-human world. Contemporary Issues in Early Childhood, 13(2), 81. https://doi.org/10.2304/ciec.2012.13.2.81
Todd, Z. (2016). An Indigenous feminist's take on the ontological turn: "Ontology" is just another word for colonialism. Journal of Historical Sociology, 29(1), 4–22. https://doi.org/10.1111/johs.12124
WilliamJosephTV. (2016, May 23). Nothing else matters—Metallica—William Joseph feels the rain [YouTube video]. https://www.youtube.com/watch?v=GdU6snztM0A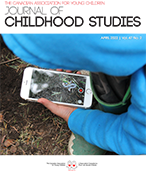 How to Cite
Malki, E., Gutierrez, R., & Skuggedal, C. (2022). In the Eye of the Tornado: Encounters with Clay—A Relational Materialist Orientation Toward Cultivating Curriculum. Journal of Childhood Studies, 68-81. https://doi.org/10.18357/jcs202220561
Section
Ideas from Practice
Copyright (c) 2022 Erin Malki, Roselyn Gutierrez, Colleen Skuggedal
This work is licensed under a Creative Commons Attribution-NonCommercial 4.0 International License.
Authors contributing to the Journal of Childhood Studies agree to release their articles under the Creative Commons Attribution-Noncommercial 4.0 International license. This licence allows anyone to share their work (copy, distribute, transmit) and to adapt it for non-commercial purposes provided that appropriate attribution is given, and that in the event of reuse or distribution, the terms of this license are made clear.
Authors retain copyright of their work and grant the journal right of first publication.
Authors are able to enter into separate, additional contractual arrangements for the non-exclusive distribution of the journal's published version of the work (e.g., post it to an institutional repository or publish it in a book), with an acknowledgement of its initial publication in this journal.