Re (Imagining) Water Pedagogies in Early Childhood Education and Care Programs
Keywords:
water pedagogy, world-making, early childhood education and care programs, liveable worlds
Abstract
This paper discusses possibilities of relational world making with water. Many Canadian early childhood education and care programs continue to engage water through a developmentalist lens, such as through practices that focus on containing, extracting, and trapping water. Children's explorations, such as with sensory water bottles and water tables, are predominantly viewed through narrow learning and developmental milestones. This deficit perspective maintains colonial and commodified relations with water. This paper presents some ways children and early childhood educators can create liveable worlds with water. 
Downloads
Download data is not yet available.
References
Ander, M., Goff, F., Hanold, B. Heiken, G., Vuataz, F., & Wohletz, K. (1984). Evaluation of the St. Lucia geothermal resource: Geologic, geophysical, and hydrogeochemical investigations. U.S. Department of Energy. https://www.osti.gov/servlets/purl/6267659
Blaise, M., & Hamm, C. (2019). Shimmering: Animating multispecies relations with Wurundjeri Country. In B. D. Hodgins (Ed.), Feminist research for 21st-century childhoods: Common worlds methods (pp. 94–99). Bloomsbury Academic.
Caribbean Journal. (2016, October 5). The story of a volcano crater in St. Lucia [YouTube video]. https://www.youtube.com/watch?v=EcJSHEy418s
Diamond Botanical Gardens. (2022). About Diamond Botanical Gardens and Soufriere Estate. https://www.diamondstlucia.com/history
Excerpts from ELECT. (2014). Foundational knowledge from the 2007 publication of Early Learning for Every Child Today: A framework for Ontario early childhood settings. https://www.dufferincounty.ca/sites/default/files/rtb/Excerpts-from-Early-Learning-for-Every-Child-Today.pdf
Geothermal energy in St. Lucia (1989). Minerals and energy. Raw Materials Report, 6(4), 16–19. https://www.tandfonline.com/doi/abs/10.1080/14041048909409933
Nxumalo, F. (2016). Towards "refiguring presences" as an anti-colonial orientation to research in early childhood studies. International Journal of Qualitative Studies in Education, 29(5), 640–654. https://doi.org/10.1080/09518398.2016.1139212
Nxumalo, F. (2021). Decolonial water pedagogies: Invitations to Black, Indigenous, and Black-Indigenous world making. Bank Street Occasional Paper Series, 45, 1–12. https://doi.org/10.58295/2375-3668.1390
Nxumalo, F., & Tepeyolotl, M. (2020). (Re)storying water decolonial pedagogies of relational affect with young children. In B. P. Dernikos, N. Lesko, S. D. McCall, & A. D. Niccolini (Eds.), Mapping the affective turn in education: Theory, research, and pedagogy (pp. 209–228). Routledge. https://doi.org/10.4324/9781003004219
Nxumalo, F., & Villanueva, M. (2020). Decolonial water stories: Affective pedagogies with young children. The International Journal of Early Childhood Environmental Education, 7(1), 40–56. https://files.eric.ed.gov/fulltext/EJ1233594.pdf
Pacini-Ketchabaw, V., & Clarke, V. (2016). Following water relations in early childhood pedagogies. Journal of Early Childhood Research, 14(1), 98–111. https://doi.org/10.1177/1476718X14529281
Rose, D. B. (2017). Shimmer: When all you love is being trashed. In A. L. Tsing., N. Bubandt., E. Gan., & H. A. Swanson (Eds.), Arts of living on a damaged planet: Ghosts and monsters of the Anthropocene (pp. G51–G63). University of Minnesota Press.
Vintimilla, C. D., & Pacini-Ketchabaw, V. (2020). Weaving pedagogy in early childhood education: On openings and their foreclosure. European Early Childhood Education Research Journal, 28(5), 628–641. https://doi.org/10.1080/1350293X.2020.1817235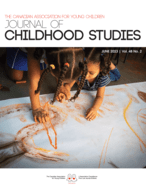 How to Cite
Mathurin, G. (2023). Re (Imagining) Water Pedagogies in Early Childhood Education and Care Programs. Journal of Childhood Studies, 16-24. https://doi.org/10.18357/jcs482202320747
Section
Ideas from Practice
Copyright (c) 2023 Georgiana Mathurin
This work is licensed under a Creative Commons Attribution-NonCommercial 4.0 International License.
Authors contributing to the Journal of Childhood Studies agree to release their articles under the Creative Commons Attribution-Noncommercial 4.0 International license. This licence allows anyone to share their work (copy, distribute, transmit) and to adapt it for non-commercial purposes provided that appropriate attribution is given, and that in the event of reuse or distribution, the terms of this license are made clear.
Authors retain copyright of their work and grant the journal right of first publication.
Authors are able to enter into separate, additional contractual arrangements for the non-exclusive distribution of the journal's published version of the work (e.g., post it to an institutional repository or publish it in a book), with an acknowledgement of its initial publication in this journal.